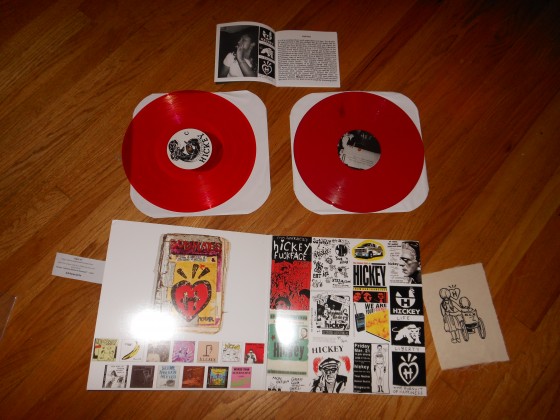 Hickey was a band from the Mission in the 90's that was the primary inspiration for the whole Mission punk scene of the late 90's and early 00's. I pretty much missed them entirely – I was still getting into music and probably at a Suicide Machines show at Slim's around the time they were playing their last show. I did get ahold of their album at some point as well as a burned copy of Various States of Disrepair that I ripped from the KALX library on my first generation iBook. At some point I saw Matty Luv and possibly another member of Hickey play at Mission Records in an acoustic band called Me, You, and the Boys. All I distinctly remember was the closing refrain of the best song they played, "I'm higher than youuuuu are, I'm higher than youuuuu are." Sadly, Matty Luv died a year or two later.
I pre-ordered this album a few months ago when Corbett posted about it on Facebook. 1-2-3-4-Go records in Oakland put the reissue together, and they did a great job. It's two LPs, Gatefold jacket, a larger than cd-sized stapled booklet that's around 20 pages, free download, optional red vinyl, and an adorbs punk rock patch (people still make those?)
I'm surprised by how many songs I remember, since I probably haven't listened to it in about 8 years. My teenage punk nostalgia has already been kicked into high gear since I discovered an awesome blog called Remote Outposts that is posting a bunch of old demos and DIY cds/tapes that came out around that time.
Anywayz, for those of you who are fans, I hope you are enjoying this reissue as much as I am. Is this the first time it's ever been pressed as an LP? And for those of you who haven't heard Hickey, they're worth looking into if you like inspiring, passionate, weird, catchy, edgy rock music.