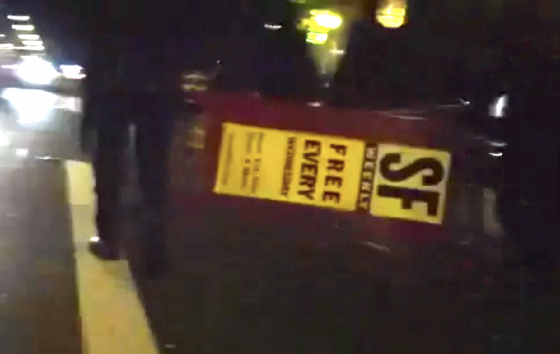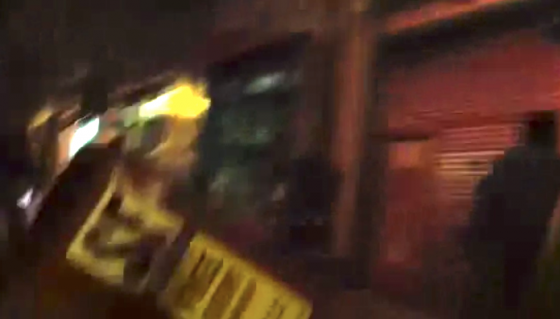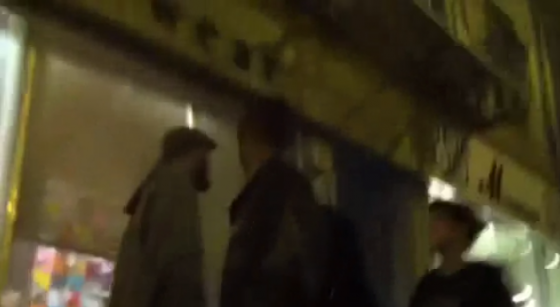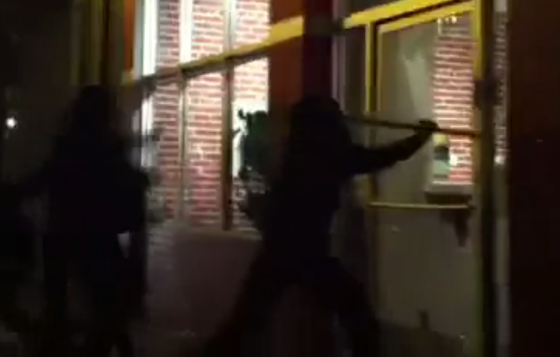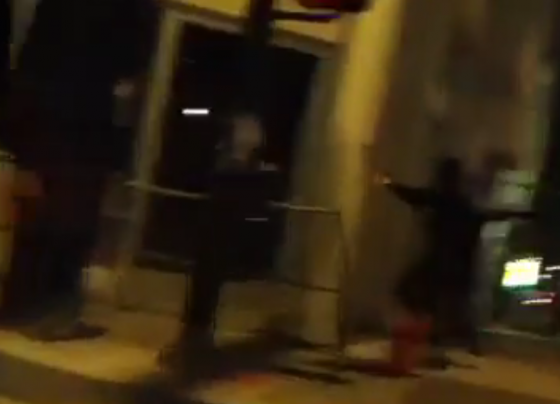 Reader Steve pointed us toward these two videos captured surreptitiously during last night's riot. I watched the full 20+ minutes and here's what I know:
Whether Occupy identifies with these rioters or not, these rioters identify with Occupy. They reference the movement multiple times in their chants. But yeah, maybe it's all a conspiracy to turn public sentiment against the legitimate peaceful protestors. Sure.
SF Weekly newspaper bins seem to be the makeshift barricade of choice for these rioters. They drag them into the street presumably to slow down authorities that might try to pursue. I'd say these bins should be banned, but SF Weekly is a very useful thing to have access to when you need something to sit on when it's damp in the park.
It's a major bummer to watch a guy smash the window of a defenseless art gallery.
Trying to reason with an angry mob is not very effective.
Videos and my timeline of notable sequences after the jump:
First video:
http://youtu.be/0jCR581MyaI
1:50 Tipped newspaper bin pushed into the street
2:10 Pair carrying SF Weekly bin, just in case they need it?
3:25 SF Weekly bin dragged into street
4:50 Somebody screams, "Stay on Valencia!"
5:55 Chant: "Occupy will not be stopped!"
6:15 Trio stops ominously in front of Weston Wear
6:33 Security alarm going off at or near Therapy
8:00 Chant: "Fuck the pigs!"
8:40 "An art gallery, really?"
Spray cans spraying and various banging noises are heard throughout.
Second video:
http://youtu.be/wdftK7LY0-s
0:55 Man tries to reason with angry mob: "Hey! Stop that!" "Yeah, that's gonna work," says someone.
1:45 "FUCK THIS SHIT" graffiti going up on 299 Valencia
4:40 Another man tries to reason with angry mob: "'Fuck you' is not a very coherent argument. […] C'mon talk to me. [...] Let's talk politics. […] Smashing some random person's minivan is gonna change that?" Mob replies with a chant: "White man go home!"
6:30 Chant: "No more fucking with Occupy!"
10:40 Exchange: "Hey [name]." "How are you?" "Good to see you!" "I'm gonna stick with you." "Yeah." "Yeah, don't run from 'em, they'll just chase you." "Yeah, I know, that's what I figured. I'm also actually recording alternate [?] video, but I don't think anything got on here at all."