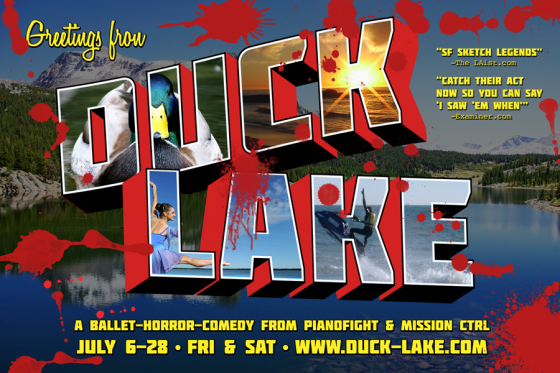 I mean, they had me at naming a thing Duck Lake — but Mission CTRL went the extra mile and created some killer poster art (above) and a really killer trailer (below).
Here's more:
DUCK LAKE is the world's FIRST Ballet-Horror-Comedy! Written and produced by PianoFight's sketch comedy troupe, Mission CTRL, it features choreography by the acclaimed Brian Gibbs of TAGsf, 3D shadow puppets, butchered Broadway numbers, and lots and lots and lots of ducks—who may or may not be murderous…
We saw their previous show a few months back and it was so good I was moved to write an actual multi-paragraph review of it. So I'm pretty sure Duck Lake will be an epic tour de force. And it opens tonight! At the Traveling Jewish Theater (on Florida between 17th and Mariposa, in the same complex as Z Space). Tickets here.