About 3 years back we received a request from a reader:
Been scouring the web for a picture of the old sign for the Tip Top Inn. Gonna have it painted for my man friend for our anniversary. That's where we first laid beer goggles on one another. Can't find a picture of it anywhere and somebody made off with the sign. Do you think the Mission Mission readers might be able to help?
So we wrote up a post and wouldn't you know it, Burrito Justice (doy) came through. Here's what the ol' Tip Top Inn sign looked like: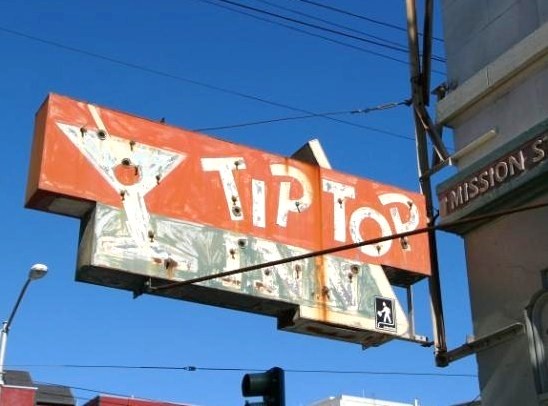 The other day, that 3-year-old post received a new comment. I nearly deleted it without looking because comments on posts that old are usually spam — but luckily I didn't:
They called me Mexican Tony. I used to wear a Silver Navajo Bracelet. I was on one of pool teams at The Tip Top Inn back in the early 1980′s. I remember Mark, Hell of a Pool player. Judy Nelson, was one of my good friends. I used to get free S F Giants baseball tickets from Fred Breining an Ed Whitson when they played for S F. A good few of the Giants used to visit the bar. I remember Vida Blue hanging out at the bar some nights. Vida would see me in the bar and he'd holler "BIG T, Wow! Ron Sanso, Mr. B, Jess the barber, George, Tom, Barbara, David Caverly RIP My Buddy. If you remember me or just want to chat about the Tip Top, leave a comment. Believe me, I'll check the website for new comments. Thanks Mexican Tony
Whoa. Thanks for getting in touch, Mexican Tony!