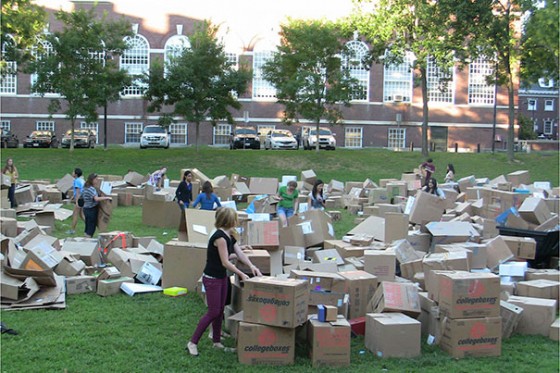 Cardboard Castles may not have has many sick beats as Crystal Castles, but one thing it does have is something rad happening this weekend to fulfill pretty much every childhood fantasy you've ever had:
Hundreds of cardboard boxes have been painted to look like giant Lego pieces and strategically covered with velcro. At 12 PM in Dolores Park on September 29th, you can build anything you can possibly imagine with them.

The event will be free and open to the public, and will last until people get bored (never) or the authorities intervene!
Or until the gutter punks hold a mosh pit inside one!  But seriously, this sounds like a pretty awesome way to spend an Indian summer Saturday and you can find out more about the project here.
Don't forget to RSVP and invite your friends!
[Photo of a bunch of amateurs--Saturday will be way cooler!]