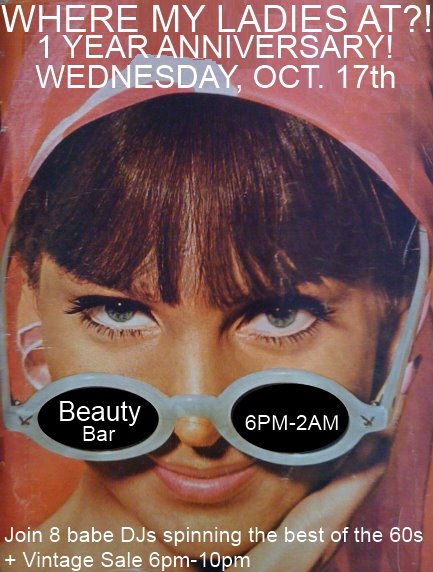 Here's the deal:
ONE YEAR ANNIVERSARY PARTY!!
Wednesday, October 17th at Beauty Bar
6pm-2am
Join Ruby White, The Biz, and The Whiz while we spin 60s soul clappers, the sassiest girl groups, garage, surf, r&b, sweet sugary pop, bubblegum, and more!
We've invited our favorite female DJs to join us: Jackie Sugarlumps, H-bomb, Amy A, Cassandra, Wam Bam Ashleyanne, and Tylawave.
Besides NINE babes ruling your Wednesday night, we'll have cake, drink specials, and a vintage sale from 6pm-10pm.
As always our night is FREEEEEEE FREEE FREEEE!!!
xoxoxoxox