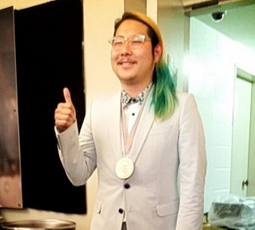 Danny, who got his start at Mission faves like Slow Club and Bar Tartine, and made waves at our dearly departed Mission Street Food, is taking the entire world by storm with Mission Chinese Food, doy. Last night he took home one of the culinary world's highest honors, and Inside Scoop jetted to NYC to pick his brains afterward. Here's what he has to say about the new SF project he's working on with longtime partner-in-crime Jesse Koide:
It's going to be insane. It's going to challenge people. I want to make food that we definitely want to eat on our day off — food that cooks want to eat, that diners want to eat … It'll be Asian. It's not going to be Chinese — I don't think.  I don't think I can convince Jesse to cook any more Chinese food [laughs] … It's going to be a twin concept restaurant.  We're actually going away for a lot of R&D.
Read on for more on what it's like to win, and info on (and a pic of) his sick new Air Jordans.
P.S. Blast from the past: The first post we ever wrote about Bowien, five years back.