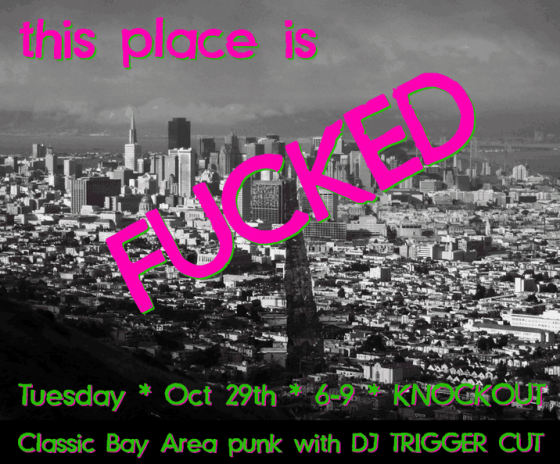 Sure, you know all about Green Day starting out at 924 Gilman, and you probably know the Rancid song this night is named after, but the history of Bay Area punk goes a lot deeper than that. And, at long last, our pal DJ Trigger Cut, who grew up here and over the years has amassed a seemingly endless collection of Bay Area punk classics all on vinyl, is gonna teach us all about it! Check it out:
This Place Is Fucked!
Happy Hour at The Knockout with Beth behind the bar.
DJ Trigger Cut is digging deep into the archives to play "classic" Bay Area punk from The Dils to Onion Flavored Rings. Come hear music from people who used to live in the Mission, but can't afford to anymore!
Come worship with the Naked Cult! Experience the Mr T Experience! Suckle at the teat of the Swingin' Utters! Get a deal with the Rip Offs! Come for the alcohol, stay for the Panty Raid! We've got 50 Million ways to satisfy your desires!
Plus, "Beth behind the bar" means LOTS of good drinks all happy hour long. Can't wait! RSVP and invite your friends!