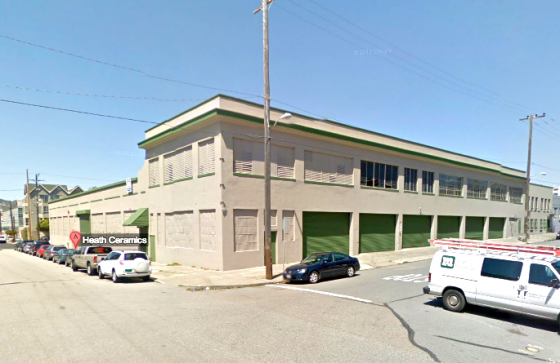 I know there's a Blue Bottle in there (and I hear they're getting a parklet), but that's about it. The Chronicle tells us the whole story:
A little over a decade ago, Catherine Bailey and Robin Petravic stumbled upon a rundown factory while driving near the Sausalito marina.
There was junk all over the yard. The doors were open, but the inside was a bit of a mess, with sketches hanging on the walls, un-priced dishes stacked on tables, and only a couple of people who appeared to be working. But Bailey recognized the lettering on a sign from some pottery she'd found on eBay. It said "Heath Ceramics."
Within a year, they had bought the business from 93-year-old founder Edith Heath, and were on their way toward turning the artisan stoneware company into a profitable venture.
Now, 10 years later, the couple have shifted from wholesale to retail, with curated showrooms in three locations, one of them a new 60,000-square-foot facility on the eastern edge of the Mission.
[via Eater SF] [Cool photo of what the building looked like before Heath moved in by Google Maps]