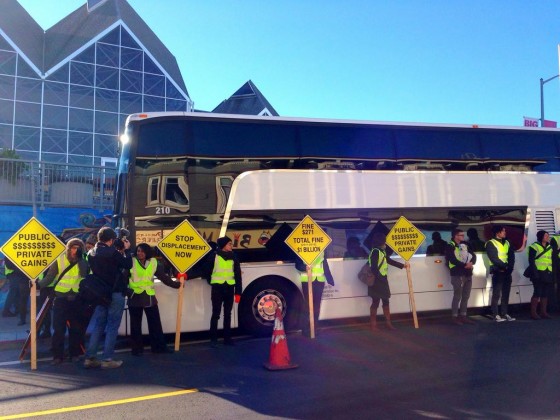 Yesterday's corporate shuttle hearing at SF City Hall brought out supporters from all sides of the transportation controversy to have their opinions heard regarding the recent proposal to allow the shuttles to share public stops with Muni buses for a mere $1 (instead of hefty $300+ fine leveraged on normal citizens who get caught using the stops).  Community members came to describe how the presence of these shuttles has affected their daily lives, while tech workers attended armed with scripted talking points provided by Google itself.
I'm not going to cover the entire proceedings, as SFist's Andrew Dalton has diligently provided a full account already, but the main arguments of each side were as follows:
Tech:  If these shuttles didn't exist, we would all just drive to Silicon Valley instead, and traffic would be terrible, pollution would run rampant, and the entire world would soon end.
Community: Private corporate shuttles shouldn't utilize public infrastructure in the first place, but the fact that they also cause Muni delays and contribute to excessive rent increases for housing is unacceptable unless the companies involved provide a meaningful contribution to the communities they are disrupting
In the end, the Board sided with Tech and will charge private shuttles a pitifully insignificant $1 per bus, per stop used.  Which is ridiculous.  The fact is that these shuttles are used as a recruiting tool, making it convenient to transport tech workers (who might otherwise choose to work in the city) down to the South Bay without them having to interact with undesirables.  God forbid they use the public transit already in place.  God forbid their companies invest in said public transit to help bolster its ability to ferry workers of all stripes around.
And no, these people wouldn't simply drive to work if the buses didn't exist.  Most would either move closer to their work or find jobs here in the city.  Basically, it's how a company like Menlo-based Facebook can compete for young talent against SF-based Twitter.
Look, I get it.  Muni, BART, and CalTrain aren't perfect.  But they're not bad, and with a little help and some extra funds, they could be a lot better.  However, based on the Board's decision, this help isn't coming anytime soon.
[Photo by Steve Rhodes]
Previously: