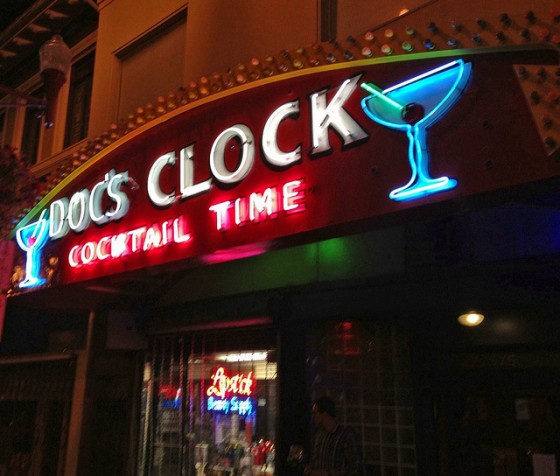 Looking Season 1 Episode 2: is this show good, you guys? I just finished the second episode of HBO's Looking, the first cool show to be set and made in SF since forever, and I'm on the fence.
Here's what happened this week: Agustin moved out of his apartment with Patrick to live with boyfriend Frank in Oakland. Dominick's ex-methhead ex-boyfriend comes to town, asks for him back. Dominick gets weirded out and effs a li'l short guy in the b, tells the methhead to go eff himself later in some hotel lobby (READERS: where was this?).
Jonathan, the hero of our story (I guess?) goes out with Richie, the Mexican guy from Esta Noche we met last week on the J-Church (I guess?). Jonathan's buds tell him "real Mexican" guys are probs uncut, so he googles a bunch of dick pics in preparation (as one does). When the two are finally getting down to business (following beers at Doc's Clock, then an Erasure dance sesh), Jonathan puts foot in mouth while putting dick in mouth and tells Richie that he'd expected him to be "uncut." Richie gets weirded out, bounces (as one does).
Now lest you already forgot, on last week's episode, Jonathan weirded his OK Cupid date out by being like "lol I got a HJ in BV park the other day for shits and giggs." Basically, this show should be called The Worst Gay Guy in San Francisco, because this guy is like SO bad at being gay. If next week's episode features Jonathan wearing sweat pants at the Folsom Street Fair making AIDS jokes, I'm seriously OUTTA HERE.
The problem with Looking so far is that it's expected to be the big gay answer to Golden Girls, Sex and the City, and Girls (there was even an extended Golden Girls ref this week), but no one's ever having any fun. Sex and the City, for one, would have never let a convo re: Mexi peens go by without a cacophony of insane dick puns.
CARRIE: So this guy Richie I'm seeing tonight, he's Mexican.
SAMANTHA: Mexican? You think he's got a flauta between his albondigas, or an enchilada?
CHARLOTTE: Que?
SAMANTHA: You know, is his tamale wrapped or unwrapped?
MIRANDA: (rolls eyes) Ay carumba.
Oh, and btw, Carrie goes on the date wearing a Versace peasant blouse with a giant macrame parrot on the shoulder and says things like "Ay, papi!" and "Si, senor!" all night. END SCENE.
See how fun that was? The gays deserve better than this, a little respect. I'll keep watching for Muni spotting alone, but if Jonathan isn't drunk on top of a piano at Martuni's by next week, I'm turning this weekly column into a Degrassi Junior High fan fiction hub.
Spotted in this episode: Philz, the Bay Bridge, a Cal T-shirt, Doc's Clock, the Castro Theater, some gay club.