We've been running Katie & Brittany's after-show drama talk for almost a year and I had yet to accompany them for a performance. Last week I was finally able to tag along for The Speakeasy, a new experiential performance in the Tenderloin. Here's our report: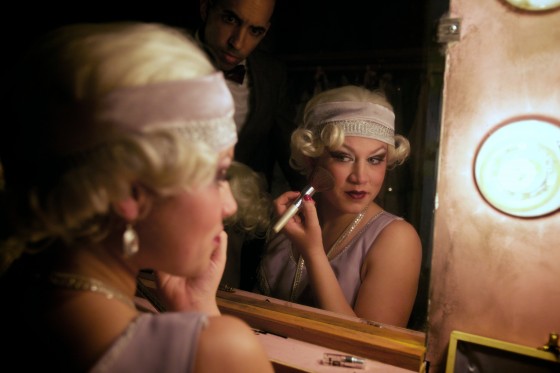 [photo by Peter Liu]
We'd heard a buzz about a unique underground club and theater in the Tenderloin. The folks at Boxcar Theatre have been working on an immersive theater piece that places audiences in the middle of 1920's San Francisco. Speakeasy has lots of intrigue surrounding it, from the undisclosed location, to the interwoven stories being performed by embedded actors throughout the space. It was enticing enough to get our fearless leader, Ariel, out with us for a night of Drama Talk & Drinks.
Ariel: I loved that it was a world you could be in and not just be a passive audience member. I think they did a really good job of taking me to that place. To go from seeing them on the stage to a space where you could see the behind the scenes drama . . . it was amazing, I just wanted to go back and forth all night. (Ed. note: there was a space where you could spy on the dressing room through a one-way mirror)
Brittany: It was very cool. It was the ultimate in FOMO though. I kept wondering what was going on somewhere else. "Oh my god, there's a noise in the other room should I be over there?".
A: Did that bother you? I liked that about it.
B: I guess it bothered me in that I thought, what if I'm not getting everything I'm supposed to get out of the show?
Katie: That is exactly how I felt and I would say that it did bother me. I was trying to enjoy what was happening in front of me but I couldn't get out of my mind "What's going on in the other rooms?" Then there was that moment where we were supposed to follow the girl in the red dress and everyone got up and tried to follow her, but since everyone did that there was a bottleneck and we couldn't get into the other room because of all the people. And I'm someone who doesn't like crowds.
A: What made me enjoy it more was that the world wasn't just propped up for me to see but the idea that this world is all around me and I'm just in it. I feel like if I walked into the room and the other rooms went dark it wouldn't have felt totally immersive. But the idea that I could walk away from you guys and see something else and you guys are seeing something that I'm not seeing . . . It didn't bother me that I didn't see the whole story, I liked that about it. It's just like regular life, we all got our different part of the story.
K: I don't know, I live "regular life" enough, sometimes I just wanna go to a show and fucking be entertained. I'm in life twenty-fo-seven, I gotta pay $60 to feel life's disappointments – the 1920's version?
B: But this life has cool costumes.
K: That's true.
A: Also, I really like that there were times when I was in a room where the actors outnumbered the audience members, which was pretty awesome. It didn't matter if I was there or not, they were just going to do their thing.
B: There were a few times where I was like, is that person an actor or not? Going into this I didn't know if I was going to like the audience being in costume,but I actually liked that I didn't always know who to look at.
A: There is still a person who I'm not sure about, whether they were in it or not.
K: You know what else was fucking refreshing? The no cell phone rule. There was a moment we were in the bar, then went to the cabaret and it occurred to me "I haven't seen one cell phone out" and I thought "Ahhh, this is so amazing!"
A: People were actually looking around.
B: And talking to each other.
K: But let's just take a minute, guys, and add up the numeros: $60-70 a ticket, drinks at $10 a pop, then you have to pay to play casino games where you don't win any money.
A: Well, they are employing 35 actors a night.
K: Yeah, I get it, but all I'm saying it's an expensive night out. I mean, you are gonna drop $100 easy.
A: But I do feel that even though I don't have a lot of disposable income, if I'm going to go out and do something special it might as well be this, because what else is it going to be?
The Verdict: The Speakeasy is a choose your own adventure show. So we decided we needed to offer three verdicts, since we didn't all experience the same play.
Katie: I really liked that experience started before you even arrive, with the email of instructions of where to go, what to say – it was just a great change of pace. I did feel transported for sure. Such a unique experience. I loved that in between it all we got to go play a game in the casino. It was a well rounded theatrical event, the 3 hours went by really quickly.

Brittany: It was very fun, amazing production value, I could go again and have just as good of a time, and probably see a totally different show.

Ariel: I felt like I was in an old noir movie. That's pretty much what I've always wanted. You could pay twice the amount to see someone play songs you've already heard, or you could step into this rich world. The drinks were delicious, but I wasn't there to get drunk. I can do that at home by myself.
The Drama Talk: The Speakeasy is not your run of the mill, sit down and shut up play. Audience members are encouraged to be in costume, or at least well dressed, which adds to the fun. You never know if you're sitting next to an actor or another audience member until they open their mouth. This is also a play where you are asked to participate, whether it's joining on in the Charleston in the cabaret, playing Casino games, or being dragged into focus as a potential love interest. It ain't cheap, but what good is? Get tickets soon because it's selling out quick. It's an open ended run, so start looking now for tickets in Spring.
The Drinks: Although the actors call it swill, the drinks at The Speakeasy are anything but. Ariel got the Endtimes, Brittany a Black Manhattan and Katie a Gin & Tonic, all were delicious, and kept us in character as customers at an illicit prohibition nightclub.