Tonight Oddball Films presents Elswhere: Gypsies, Vagabonds and Refugees, a series of archival short films all about what really gets people moving.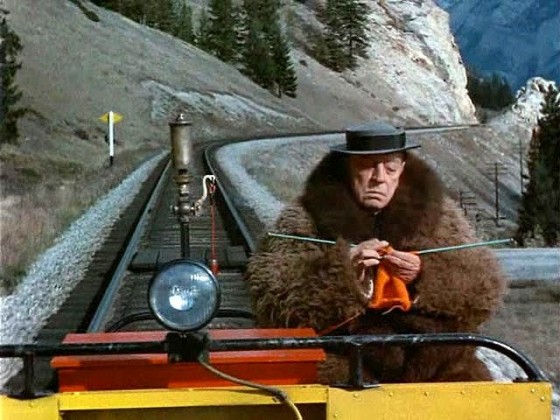 [frame of Buster Keaton in Railrodder]
The Hitch-Hiker (1950), a rather racy instructional film on how to get a ride; Railrodder (1965), wherein an aging Buster Keaton traverses the Canadian National Railway in style; Madeline and the Gypsies (1959), the film adaptation of the classic tale by Ludwig Bemelman; The Greenie (1942) a touching bit of WWII propaganda about a young polish refugee; San Francisco Earthquake and Fire (1906), or how Oakland got its start; Thumbs Down (1974), a cautionary educational film featuring real-life Los Angeles hitchers; Story of the Hungarian Refugees (1956), a U.N.-produced piece regarding the perils of border-crossing; and Riff Raffy Daffy (1948), on one unlucky duck's run-ins with the Pigs! …Plus: Newsreels, Wobblies, Navajos, + "Wild & Bully."

Arrive early for Clowns, Henry Miller in Paris, Donuts and special surprises!
Sounds pretty cool. The show is tonight (Thursday, July 31st) at 8:00pm. Oddball Films is at 275 Capp Street (btwn 17th & 18th). Admission is $10 and you can RSVP to RSVP@oddballfilm.com or (415) 558-8117