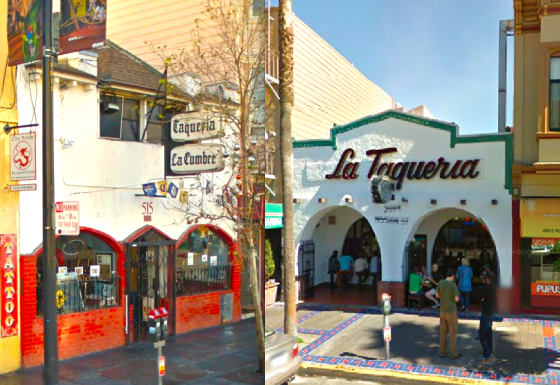 In the comments section of our post over the weekend about Taqeuria Cancun being in possible danger of eviction, an interesting discussion has developed. Commenter Chris says:
La Taqueria, La Cumbre are 2 examples of popular taquerias that had foresight to buy their buildings. They are here to stay.
To which small donkey responds:
That's a funny pair. La Taqueria has stayed awesome, maybe even gotten awesomer over the years. So you'd say that owning the building has freed them to focus on making good carne asada.
La Cumbre has really gone to shit — it used to be really good 20 years ago. Now it's all meat dried out and not tasty, poorly steamed tortillas, and the staff doesn't appear to give a crap. So maybe owning the building has freed the owners to sit home running the numbers on their exhilarating property appreciation while the business becomes no sabroso.
Hmmmm. It's like these two taquerias are trying to tell us something about the human condition or something.
[Photos by Google Maps]