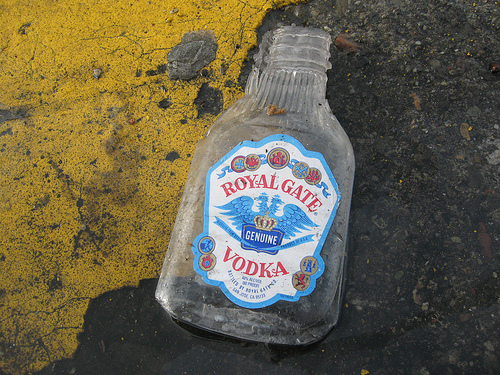 Capp Street Crap over the weekend published an extensive Q&A with a representative of Haas Brothers, the company that makes Royal Gate Vodka, the vodka Cranky Old Mission Guy says we should rename the 16th and Mission area after. The Q&A covers A LOT of ground…
There's history:
The Haas family is the 17th company in California history, founded in 1851. They helped to develop Wells Fargo bank, ran Levi Strauss for 150 years, lots of different enterprises. Cyrus Noble Bourbon, which the family launched in 1871 in San Francisco, continued in the pursuit of distilled spirits.
There's sociology:
The economically not so well-to-do, that population, still continues to drink Royal Gate robustly. It's not only the the disenfranchised minority communities in the Tenderloin; it's working class logger communities in Mendocino and Humboldt County. It's also the disenfranchised fisher communities along the Oregon coast and up and down the California coast. It's not just that inner city, urban minority drinker; it also happens to be Central Valley dairy workers and Delta and bay and Northern California fishermen.
There's economics:
There are different tax implications for, in the world of vodka, how you formulate your vodka. And if you add to your vodka flavor modifiers, you actually save money on federal taxes, a 2.5-percent savings on federal excise tax. And so, Royal Gate does what other value vodkas do which is to add citric acid, which is used for for lemon zest or lemon derived citrus note. And if you are an ultra-premium vodka you wouldn't add that.
AND they address Cranky Old Mission Guy's proposal. AND it's all incredibly fascinating. Read the whole thing.
[Photo via Kute 'n' Krispy]