Fortunately for all of us, theater is alive and well in the Bay Area. Between some great shows and inspiring conversations, Drama Talk & Drinks is seeming more and more hopeful for lively, challenging and engaging performance around here. I dunno about you, but I am feeling jazzed to get out and see some theater. More on that soon. In the meantime, Brittany and her boyfriend took his mom to Berkeley Rep to see their new show, Party People. Here's their report: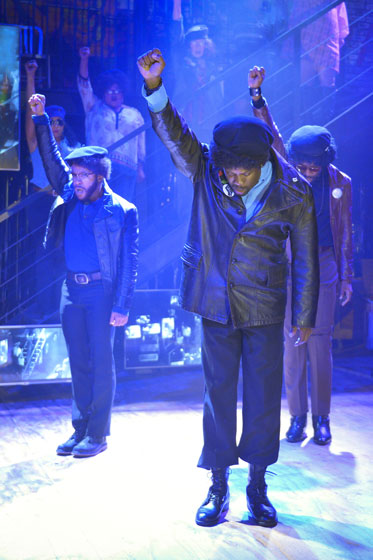 [(l to r) Christopher Livingston (Malik), Steven Sapp (Omar), and Reggie D. White (Solias) perform in UNIVERSES' Party People, a high-wattage fusion of story and song that unlocks the legacy of the Black Panthers and Young Lords at Berkeley Rep. Photo courtesy of kevinberne.com]
When parents visit, finding events with reasonable decibel levels can sometimes be a challenge. So when Brittany's SO's Mom was in town, they decided to treat her to a night at one of the best theaters in the Bay Area, Berkeley Rep, to see their current show Party People. Since the play is partially about fostering intergenerational dialogue, we figured why not do a Drama Talk & Drinks Parent-Visit edition!
Brittany: One of the biggest problems with the current theatre scene, at least in my opinion, is it tends to play it too safe and fall back on what's already been done. We see so many revivals and classics being remounted, and even with new plays lots of topics have been revisited ad nauseum. There's definitely something to be said for timeless theater, but it's hard to stay relevant without taking some risks. This play takes risks.
Mom: I commend this play for bringing an extremely complicated problem to peoples' attention, and being honest that the answers are somewhere in the gray area. There isn't an easy solution and people have to be aware that inequality is still a problem, and people need to work together for the goodness of everyone. Even though I don't normally like hip hop, I thought this was good. It's done very tastefully.
B: The thing I really appreciated about this show is that they not only spanned genres using new media, video, spoken word, hip hop, jazz and gospel while incorporating different styles of theater, they also took a very contemporary look at a topic that tends to be examined more as a history lesson. Instead of just paying reverence to the civil rights movement, and specifically the Black Panther and Young Lords movements, they really followed that thread of history to the present day. They took a serious look at the successes and failures of these movements, and how those are both relevant and irrelevant in the contemporary struggle for equality now.
M: I liked the production. It was very fresh. The show is 2 ½ hours long and you don't even notice it. It was very well paced. It kept me engaged the whole time.
B: You need to watch out for the splash zone though. The actors are putting on such an amazing performance, they were just dripping in sweat. There was one time when one of the actors dramatically turned his head and I was sure I was going to get soaked with a sweat wave.
M: The stamina of the actors was impressive. From the rapping to the dancing. Some of the actors weren't that much younger than me, and I certainly couldn't dance like that now.
The Verdict: This is a show that people need to see. It's not only good theater, it's important theater. Brittany is not one to give a standing ovation lightly and she jumped to her feet. Mom did too, despite the hip hop, so that has to be an endorsement.
The Drama Talk: Party People was first developed and produced at the Oregon Shakespeare Festival by UNIVERSES "A National / International ensemble Company of multi-disciplined writers and performers who fuse Poetry, Theater, Jazz, Hip-Hop, Politics, Down Home Blues and Spanish Boleros to create moving, challenging and entertaining theatrical works." That they did! The play is the culmination of a series of interviews with people affiliated with the Black Panther Party and the Young Lords party. It captures the struggle of the young artists in UNIVERSES, who were younger than the subjects they interviewed, as they wrestled with the legacy of the civil rights movement and its implications for the continuing struggle for equality in America. Great production values, great energy and an all around great theatre experience.
The Drinks: We wanted to show Mom a fun night out in Berkeley. So we took her to the backyard fire pits at Jupiter after the show. We had already had a huge dinner and drinks at Angeline's Louisiana Kitchen before the show (highly recommended), so we skipped the pizza and went straight for the beer. Brittany got a Goose Island Lilith and Sam and his Mom shared a Jupiter Dry Stout (you wouldn't want things to get too crazy) and we toasted to a great night of theater and bringing generations together.
Party People runs through November 30th at Berkeley Repertory Theater. If you have parents in town for the Thanksgiving holiday consider picking up tickets, available through the Berkeley Rep Website. Current ticket prices range from $67–87 for premium to $35–59 for "Section B" seats with discounts for under-30 patrons. According to the Berkeley Rep website "Prices are subject to change at any time. Generally, your best bet is to buy early. Weeknight tickets tend to cost less than weekends".