SF "fun" fact: Lena Hall, who originated the role of Nicola in the Broadway production of Kinky Boots, was in my high school class at School of the Arts, back when it was still behind SF State University. So she's there, and I'm typing this, so obviously we are both shining our bright lights. Anyway, enough about me, Katie & Brittany checked out the local production of Kinky Boots last week, their reactions split down the middle. Here's their review: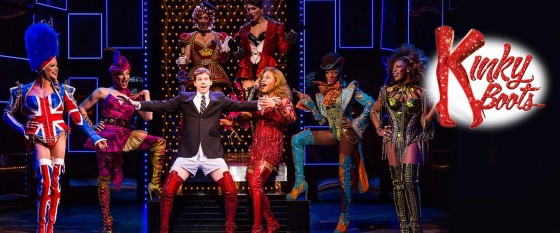 When it's rainy in SF it's a challenge just getting out of the house. But when presented with the opportunity for drag queens, fabulous boots, and a night out at The Orpheum, it's hard to say no. So we braved the monsoon to go see SHN's latest tour, Kinky Boots.
Katie: I hate to say it, but I'm a little disappointed. Going into this show all I knew was that Cyndi Lauper wrote the music, it won the Tony, and there were drag queens and boots involved. But given Cyndi Lauper's LGBTQ advocacy, I thought it was going to have more substance and innovation. I guess I was expecting something more like Rent, but with fancier shoes and a few more drag queens. I came in hoping for cutting edge musical theater that would entertain you and make you think. All that kind of bullshit I love. This was just a little forced.
Brittany: That's so funny. I had the exactly opposite reaction. I was actually pleasantly surprised. I didn't think I was going to like this show because I had a feeling it was going to be way too fluffy, but it was actually a bit deeper than I thought it might be. I mean it's a show about shoes, but there were moments.
K: I really loved Cyndi Lauper's score. That's the sort of music I like in a musical. But the lyrics were hit and miss. There were a few songs that really moved me, and the actors were super fucking talented, but the story as a whole didn't do it for me. I thought it was a little too gimmicky. What saved it for me is that the actor who played Lola (Kyle Taylor Parker) was AMAZING, so I cared about what happened to that character.
B: You could tell Cyndi Lauper wrote this. The score was upbeat and fun, but some of the lyrics were just so corny. It felt like the songs were written by someone who writes pop songs, as opposed to someone who knows how to write songs to advance a plot and develop a character. There were definitely some exceptions though,"The History of Wrong Guys" and "Not My Father's Son" were great, but sometimes it felt like she was just searching for another word to rhyme with shoe.
K: It's definitely not ever going to be my favorite musical. It's not my least favorite though, I had fun, but I just didn't care enough. There were elements of this production that were amazing, but I just wasn't that moved.
B: Everything was going so fast at the beginning, it was definitely hard to get into the story. It was set change after set change, new characters left and right, we were in the past, then in the present, and lots of glitter and lights. In a way it was crazy impressive. The way the set moved, and was so many different things so quickly, but it was also a bit of a sensory overload.
K: Seriously, the first half hour I had no idea what was going on.
B: It was a whirlwind, but it was fun. Really creative staging and design. Also, full disclosure, my friend (Cassie Dorland, Associate Props Coordinator) worked on the props for this show, so I may be biased, but I thought the props were pretty awesome.
K: Yeah they were! The drag queen costumes were LEGIT too! Really beautiful. Also it's great have more representation of LGBTQ people on stage, so you can't argue with the value of that.
The Verdict: Like Cyndi Lauper? Like drag queens? Like a fun cotton candy musical with impressive design and beautiful costumes? You'll love Kinky Boots! Looking for something deep that may change the way people look at the world, you may be better off staying home and re-watching Philadelphia.
The Drama Talk: It makes sense that Kinky Boots won the Tony. It's a very box-office friendly musical. Catchy tunes, fun characters, flashy costumes, nice and light. You leave this show humming a song. If you're a Cyndi Lauper fan you'll love that you can hear her in the music. It's got the sound of "Girls Just Want to Have Fun", and there're lots of beautiful drag queens, glittery boots, and a sweet (although predictable) love story too. It's definitely not groundbreaking but it's fun, really well designed, and the cast is all very talented.
The Drinks: We went to Soluna Cafe for dinner and drinks before the show. Damn their burger is GOOD! Great spot to hit up before going to the Orpheum.
Kinky Boots runs through December 28th at SHN's Orpheum Theater. All the Goldstar deals on tickets for Kinky Boots have expired, but a limited number of $40 rush tickets are available beginning 2 hours prior to curtain at the SHN Orpheum Theatre Box Office. Cash only. 2 per person, subject to availability. Otherwise, as always you can get tickets directly on SHN's website.