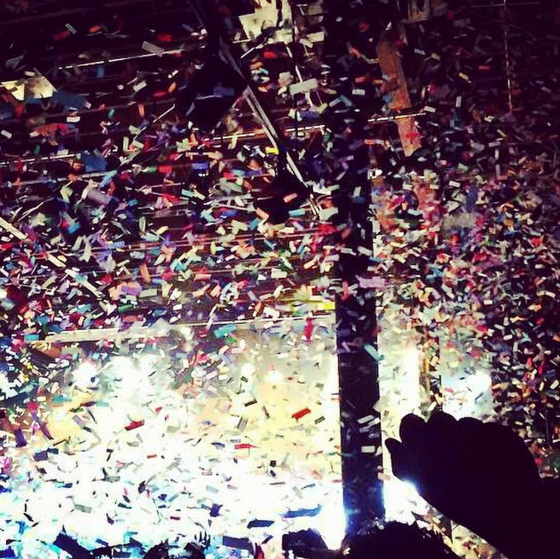 I've seen a lot of Weezer shows over the years:
Opening for No Doubt at the Delta Center in Salt Lake City, 1996.
Headlining the Crest Theater in Sacramento, 1999, after a couple years of hiatus following Pinkerton but before the Green Album hit.
The big pre-Green Album tour stop at the Bill Graham Civic Auditorium, 2000, right before the Green Album hit.
September 12, 2001, at the Oakland Arena. The Cal marching band played Weezer hits during the break between bands.
November 2014 at Slim's. They played an acoustic set of classics before turning off the lights and ripping into their latest album in its entirety.
All the shows were great, particularly that most recent one (pictured). Seeing them up close and personal, playing new shit they were all really excited about was a gas. Up until then, the most intimate, fiercest Weezer shows I'd seen were not performed by Weezer at all, but by a band called My Name Is Jonas Brothers at various Debaser Christmas parties at the Knockout. I'm pretty sure they just stick to Blue Album and Pinkerton, and they rip! And they're doing it again this weekend. Here's the info:
DJs Jamie Jams and Emdee return with an extra helping of Weezer to get you in the mood for the holidays.
It's like your favorite compilation of Spike Jonze videos or that one tour with That Dog!
Special guests "My Name is Jonas Brothers" play all the Weezer classics, so come early.
$5, Free w/ your worst holiday sweater before 11 pm.