Lower Haight-based blog anadromy relates a tale:
I live in an historically African-American neighborhood. Unfortunately, the "historically" part of that phrase is becoming more and more the reality but it is still one of the last predominantly black neighborhoods in central San Francisco and to my chagrin I just walked by some motherfucker in an NYPD sweatshirt. It's a nice day and I was in a really good mood coming back from the gym listening to cumbia music on my iPod and enjoying the sunshine so it didn't register at first but as I passed this clueless dweeb I got pretty angry and stared at him with naked disapproval.
Maybe it was an NYPD Pizza sweatshirt?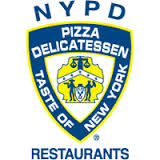 Read on for the dramatic conclusion.