We missed Theatre Rhinoceros' production of Breaking the Code: The Alan Turing Story the first time around, so when it returned this month for a short engagement after great reviews for the first run we thought we have to check it out. So off we went for a night of Drama Talk & Drinks in FiDi.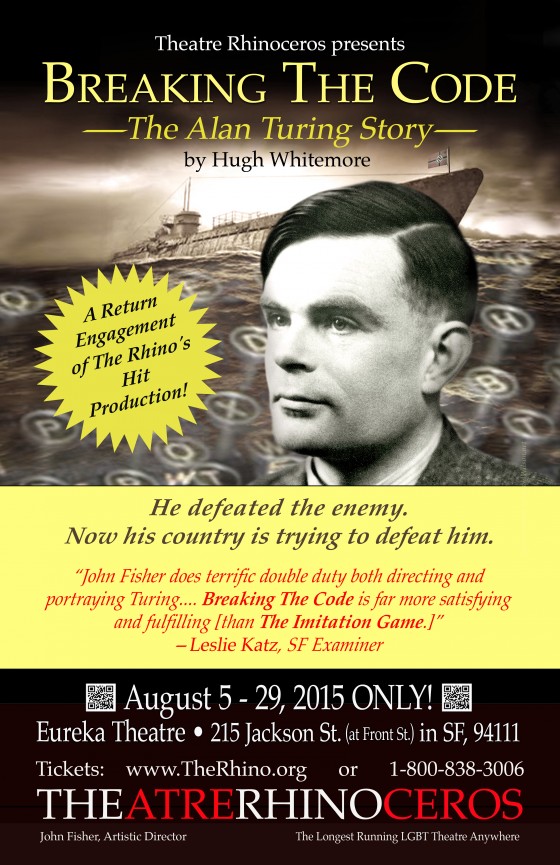 Brittany: If you saw the movie "The Imitation Game", which is also based on the life of Alan Turing, I think you'll be surprised because this is nothing like the movie. I'm sure it's a matter of Hollywood making something more dramatic than it actually was, but the story in the movie was much more exciting. Maybe this is more realistic, but it's not as entertaining.
Katie: I haven't seen the movie, but the show was slow. When I was studying to be a director I was told to not direct a show you are staring in. As much as I love John Fisher, I feel like this show proved why. When you are both the star and the director it's hard for you to see when pacing is off. There was no momentum, so despite some talented actors and a few lovely moments it just didn't keep me engaged.
B: Yeah, the pacing was slow; made worse by wonky scene transitions, costume issues and the fact that the actors were struggling with their British accents. I'm a bit of a stickler for dialect so if it's off it super bugs me. Also it drives me crazy when there are set pieces the actors make no reference to. There were chalk boards with all these equations on them and they were never used. Random theatre pet peeves of mine, but still they frustrated me.
The Verdict: Have you seen "The Imitation Game"? Did you enjoy it? Yes, then this play may be a bit dry for you. Are you an Alan Turing history buff who cares more about the real-life struggles of the man than Hollywood drama? You may enjoy it, but don't come tired, we saw a few fellow (albeit older) audience members who may fit this description sneaking naps during the show.
The Drama Talk: We really love John Fisher's (the Executive Director of Theatre Rhinoceros) work and thought he would play a great Alan Turing. After seeing the play, we weren't surprised to find out that we were right, John Fisher is impressive, but we were surprised to have to ask "So, why did they do this play again?" Though we think that directing a show you also star in is usually not a smart move, this play's story is so disjointed we are not sure if even a devoted director could have saved it. The combination of a poorly written script and some technical and pacing issues made an extraordinary man's life not very engaging.
The Drinks: We went from one piece of history to another. One block from the Eureka Theatre is the oldest bar in San Francisco (it's true, here is a list to prove it) called The Old Ship Saloon. It's relatively updated at this point but still feels like a relaxed dive bar. Especially since late-night options are few and far between in this neighborhood it's a great place to go to debrief after the show.
Breaking the Code: The Alan Turing Story runs through August 29th at the Eureka Theatre. Tickets are available on the Theatre Rhinoceros website through Brown Paper Tickets for $25-$30.