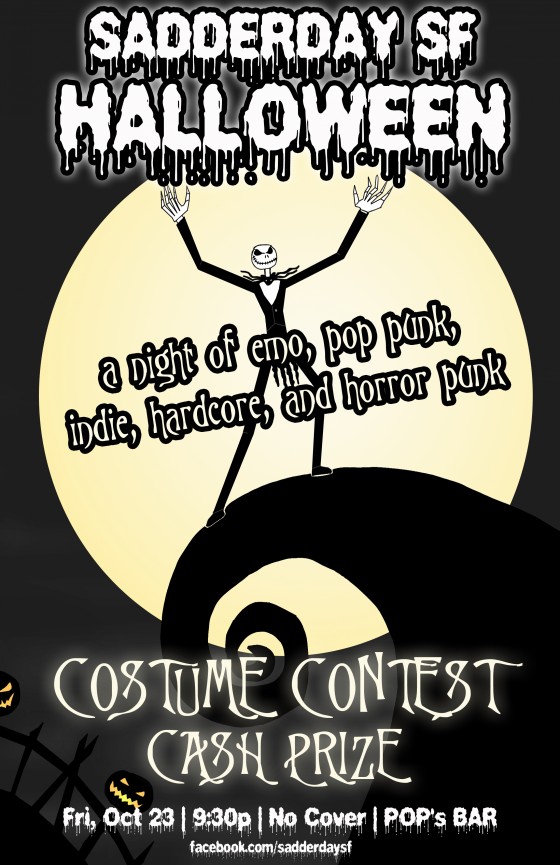 [Editor's note: This is Pop's Bar's weekly entertainment calendar, as usual, but they're getting rid of the "Music for the Mission" headline. Don't be alarmed.]
Nowhere else does Halloween like San Francisco. In fact many of you have been constructing this years costume since 11/1/14. So we are stretching out the party as long as we can starting this Friday with a very emo SADDERDAY SF HALLOWEEN. DJs Kevin Kannibal and Ashley Suicide help you relive your youth playing all your favorite emo, pop-punk, screamo and post-hardcore songs all night.
And because like most of us, SADDERDAY loves Halloween, they're hosting a COSTUME CONTEST!
Dress up goth or emo, as Gerard Way or Conor Oberst, or whatever you want. There's a CASH PRIZE, so dress to impress.
Check out the rest of this week's line up at Pops Bar:
10/19/15 MONDAY
MOM at POPS:
Motown on Mondays
It's only Monday if you treat it like one.
M.O.M
9PM START, 1:30AM end
Hey!
Check out my
M.O.M.
Mondays at Pops
DJ BLUZ, ALARM & GUESTS
PLAYS ORIGINALS, EXCLUSIVE REMIXES
AND CLOSE RELATIVES OF YOUR FAVORITE
MOTOWN SONGS…
10/20/15 TUESDAY
Trivia Tuesdays
Pops Quiz
$2 to play
8:30-10:30PM
Join us every Tuesday of the month and test your wits at Pops trivia night "POP's Quiz" where your brain may get stump on categories such as Pop's culture, Sports, Movies, Music and more, with little snippets of audio and visual effects too! It starts at 7:00pm ends at 10:00pm. So come on in for some good ole fashion competition and a night of drinking with the crew! It is a 2 dollar cover and winner gets the pot!! so tell friends and family because the more peeps the steeper the cash prize is!!
MUSIC THERAPY
Electro-Cumbia Breaks, Hip Hop, Nu Latin Beats
10PM-1:30am
No Cover
21 UP
10/21/15 WEDNESDAY
Spike's Live Piano Karaoke
Every 3rd Wednesday 7-10pm with Karl on the Keys
Whatever Wednesdays
Whatever Wednesday is YOUR PARTY, literally. You got DJ skills? Have you been itching to show ALL your friends? Its your turn to take over the night and mix it up. Send us your request, your best mix and we'll see what we can do to get you your turn.
Email: tom@popssf.com
No Cover
21 UP
10/22/15 THURSDAY
Happy Hour Entertainment 6-9pm with DJ Sektor spinning Retro Thursday
BFF.FM Night
9PM-1:30AM
Rotating DJs from local BFF.fm radio! This week: ZeroOne
Dance party featuring the best of New Wave, Post-Punk & Synth-Pop.
Come support local community radio.
No Cover
10/23/15 FRIDAY
Happy Hour 6-9pm with DJ Billy Z
SADDERDAY SF HALLOWEEN
9PM-2AM
an emo/pop punk/indie/electro dance party
Dress to impress. Halloween Costume Contest!
No Cover
21 UP
10/24/15 SATURDAY
Patch & Rita
Happy Hour Entertainment 6-9PM
Who could resist this dynamic duo, with their sonorous adventures into the deserts of early 20th century songwriting? If you've got a hankerin' for some rootsy boot-stompin' tunes about whiskey and cheatin' women, then this is your place. Patch & Rita throw down some tunes like this coast has never seen, and you'll leave stomping your feet, we promise.
ALL 80s EVERYTHING: DANCE PARTY
ALL VINYL / ALL NIGHT
Curated Dance music of the 80s: Funk, Boogie, new wave, pop, r&b, rap, house, reggae, New 80s edits, and Dance Jams influenced by the 80s
DJ Boom Bostic
9PM-1:30AM
No Cover
POPS BAR
2800 24th Street @ York
San Francisco, CA 94110
www.popssf.com