We had no idea that the Curran Theater was under construction. We were also pleasantly surprised that they are using this time as an opportunity to give audiences a unique experience. While the theater is going through a face lift, they are inviting audiences to gather on stage, and witness their performance pieces up close. We were fortunate to be able to catch the first piece of the series Object Lesson created and performed by Geoff Sobelle: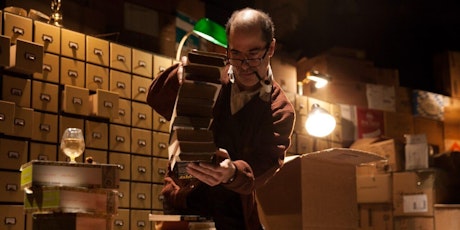 Katie: I can't think of the last time I saw something that interesting and refreshing. It was fucking delightful.
Brittany: It was such a cool use of space. It was awesome to be on the stage of the Curran amidst all the boxes that you get to look around and play in and all of the sudden a show starts. It was like a magic show meets really cool art installation meets really cool performance piece.  I think he did a great job of capturing that moment of nostalgia that unites the way that people experience their lives.
* Unfortunately Object Lesson only runs this weekend and is sold out (wow this post is such a tease) but if this show is any indication of how innovative this series will be, then this will be some of the most interesting pieces of theater you will ever see.
UPCOMING PERFORMANCES
October 14-18 / Object Lesson
October 19th / Ground Breakers with Kevin Sessums
October 23-25, 28-31 / Ghost Quartet
November 19-21 / Steve Cuiffo is Lenny Bruce
December 3-5 / Notes of a Native Song
December 12-13, 19-20 / Story Pirates' Greatest Hits Show
January 17-27 / A 24 – Decade History of Popular Music
Go to sfcurran.com to get the full run down.