Halloween season is here! That means it's time for another year of Thrillpeddlers' annual Shocktoberfest; a festival of Grand Guignol horror theatre. Shocktoberfest 17: Pyramid of Freaks promises an evening of 'terror and titillation', all in the Thrillpeddlers purpose-built horror theatre the Hypnodrome. Never wanting to miss a night of titillating theater, off we went to SOMA for a night of drama talk and drinks.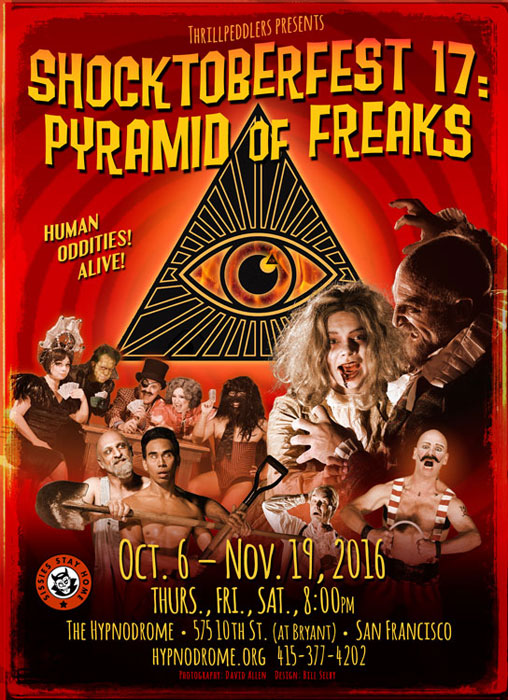 Brittany: I don't know if I have just been to Burning Man one too many times, or have seen enough Thrillpeddlers shows that I'm a little jaded, but it was so much less shocking than I thought it was going to be. Yes you had some sodomy, some penises, a little bestiality, but it was much more tame than I remember last year's Shocktoberfest.
Katie: I didn't see last year's Halloween show, but I did see another one of their regular season shows, and it was a lot more rated X than this one. I didn't enjoy it as much as I enjoyed this one either. This time I was just super entertained, even if some of the acting was a little rough around the edges, the vignettes were short and sweet and kept me engaged.
B: So true, they didn't go too far this time, and I think it made it a stronger show.  It's so fun how much the audience gets into it too. That's what I love about every Thrillpeddlers show. It's not just the actors having fun, the audience is having a blast . It's easy to forgive some pacing issues, and a few too many scene changes, when everyone is having a great time.
K: It's a great show to see for Halloween. I'm not a fan of horror movies, and don't love a lot of gore and blood, but even I still had fun. I did have to look down a couple of times, like when he was ripping people's hearts out literally, but even during the lights out spook show at the end it never went so far I felt uncomfortably creeped-out. It was just a cool different experience.
B: Thrillpeddlers does a great job creating an experience. From the moment you enter the door of the Hypnodrome and hear the pre-show band playing you feel like you enter a different world.
K: It sounds odd, given the subject matter, but I got this warm and fuzzy feeling about the whole show. It's such a great community. This free spirited attitude of let your freak flag fly, do what feels good, be in costume, sing, dance, hoot and holler, be whoever you want to be. It makes me happy there's still a community of avant garde San Francisco artists around to put on a fun night of spooky, bawdy, sexual, twilight zoney, old school San Francisco theater.
The Verdict: Looking for something to do this Halloween? Go see this show! Definitely not for kids, or for your friend who can't sit through a rated R movie, but a great night of sexy scary fun theater.
The Drama Talk: Thrillpeddlers does a great job creating fun, sick, sexy and twisted worlds. Done in the style of Grand Guignol  Pyramid of Freaks is made up of four vignettes with a black out spookshow finale. Great costumes, cool lights, neat special effects and lots and lots of fake blood make for some memorably spooky scenes. Although there are some strong actors and singers, this show is more about the experience than it is the quality of the performances. While all of the vignettes had some good moments, the second one in the series, The Hellgramite Method, written and adapted for the Thrillpeddlers by William Selby, the original writer of the Twilight Zone episode by the same name, stood out as the one that will give you nightmares. In the same way a haunted house can bring people together, by making you grab your friends hand in terror, Shocktoberfest creates community by letting people share in a ridiculous evening of gory sexy Halloween inspired inappropriateness.
The Drinks: The Hypnodrome isn't near much, so we decided to go back to the Mission to the Armory Club, to continue the night of spooky sexiness. Katie got the Zombie Princess  and Brittany got the Bawd Rye, and we toasted to San Francisco and the wonderful freaks and artists that still make this city great.
Thrillpeddlers Shocktoberfest 17: Pyramid of Freaks runs until November 19th, with shows Thursday, Friday and Saturday at 8pm. Ticket are available on their website and are $30 for general admission or $35 for the front row or one of the specially decorated "Shock Boxes". There were tickets on Goldstar, which have now sold-out, but it's worth checking to see if more become available when you go to purchase.
Save