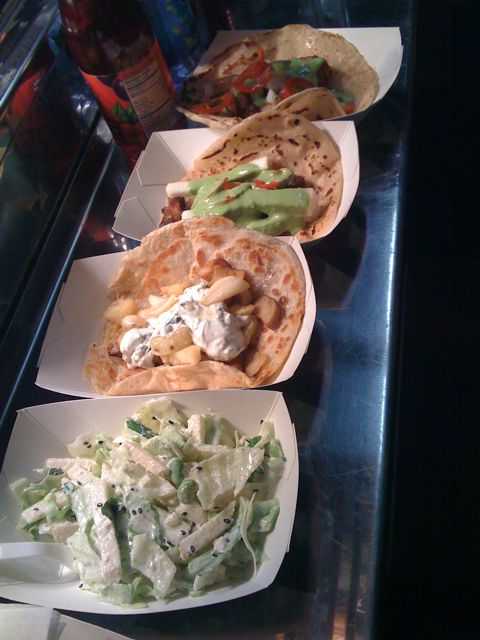 Holy moly. Mission Street Food is returning, for one night only, this Monday night, at The Perennial, the latest in a long line of game-changing projects by the founders of MSF, Anthony Myint and Karen Leibowitz. I can't believe it's been most of a decade since I got that first tip about what would become my favorite weekly routine for the 2 years or so that they kept it up. And I'm soooooo glad they're doing a little reunion.
Reservations are closed, but they'll take some walk-ins.
The Perennial/MSF crew writes about it here:
Eight years ago we tried something a little different. This was before Instagram and before Barack Obama was elected President. Actually, it was during an election season, and maybe that's what's gotten us a little nostalgic.
In October 2008, we sublet a Guatemalan snack truck to serve something called a "PB & J"(Crispy [P]ork [B]elly & marinated [J]icama on a buttery scallion pancake-ish flatbread). There was a moment where I was standing on the corner with a cooler of mise en place, anxiously waiting for Senor Gomez to bring his little food truck and that was really the end of the innocence. I saw another dude standing not too far away also waiting for something. He was my first customer and a line was forming.
Karen ran  from BART to join the fray that was the first night of Mission Street Food. She alternated between chatting with customers and running back to our apartment to bake cookies to sell to the line. We went home, started this blog, and  crashed. We did it again the next week and again the next. We moved into a run-down Chinese restaurant and did it again, while inviting guest cooks to join us. We liked to think that we were starting an indie chef movement. We ran 2 pop-ups each week and by the end, pulled off 140 unique menus. Karen called it the equivalent of planning a wedding twice a week.
And here's what to expect on Monday:
We'll have dishes you can't get anywhere else from Chris Ying, Caitlin Koether, Jordan Grosser, Ted Fleury and yours truly including some MSF classics (like PB&J) and a bunch of newbies too. Music by David Cabello and karaoke in the bar. A few more of our old compatriots have promised to help, too. Come along and feel some feelings with us. The more things change, the more they stay the same, right?
Wooooooooooo! (And karaoke too!!) Read on for more.