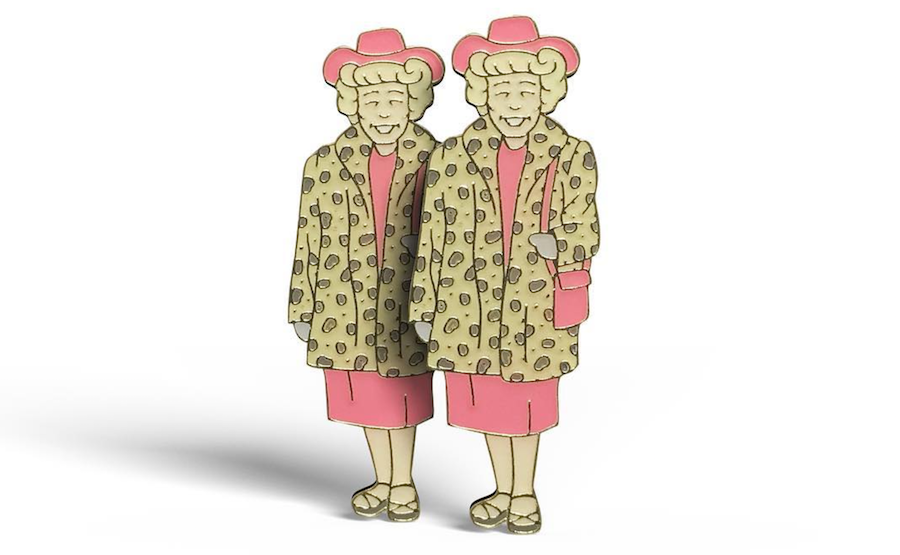 PSA Press debuts yet another entry in their long list of enamel pins celebrating San Francisco's history! Here's what they have to say about the Twins:
Marian and Vivian Brown were American identical twins and celebrity icons of San Francisco for more than 40 years. Known as the San Francisco Twins, they were renowned for their appearance in media with adorning signature identically bright snappy outfits and hats atop meticulously coiffed hair. We seek to honor them as they are one of the reasons we fell in love with San Francisco when we moved here over 10 years ago.
Fun Facts about the Brown sisters:
1. When asked if they ever wore pants, Marian said, "I have never owned a pair, I never intend to buy a pair even if they were made of silk!" 2. The twins' favorite meal was a small combination pizza from Uncle Vito's served at 4:30 in the afternoon.
3.The twins always wore fake fur. "They call it faux fur but I call it fake. F.A.K.E!" said Marian in one interview.
Vivian passed away on January 9, 2013 at age 85
Marian passed away on November 20, 2014 at age 87
It's two separate pins sold as a set, so you can have one for you and one for your twin (or bestie). Gettem here.