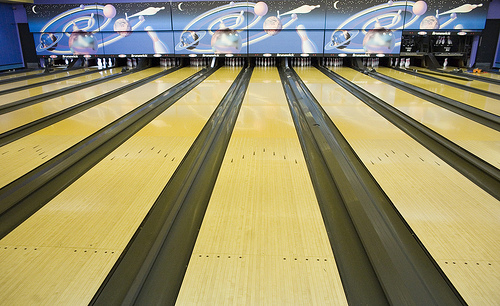 (Presidio Bowl by Thomas Hawk)
A few weeks after hearing that some high end exclusive club (that also happens to let you bowl for a small fortune) plans on opening in SoMa* Paolo Lucchesi tells us that Brooklyn Bowl might be planning to open a new location on Mission Street. Unlike Berkeley Bowl**, Brooklyn Bowl actually has bowling.
Taking a look at the Brooklyn Bowl website, I'm  wondering how much less of scene this place is. I guess it's unrealistic to just want some lanes and a pitcher of beer. The food looks good, realistically expensive. $25 bucks for half an hour of bowling. Not too bad, I guess, if you've got a bunch of friends. But is this place cool? Can you go there without spending a week's paycheck? Can I wear a white t-shirt? Do you have to come straight from Medjool?
Anyone been there? Is this what people want to have on Mission Street?
*Seriously, no white t-shirts? You open a bowling alley and kick out the rockabillys and greasers? I get that you don't want poor people, but someone has to actually throw some balls down some lanes at some point, right? Or is it really just decor? What if I come dressed in a bathrobe or a purple jumpsuit? No, you'd throw me out. I have to bowl in a dress jacket? But I bet it's all right if I unbutton it enough to show most of my chest, as long as a white t-shirt isn't covering my chest hair.
**That's right, Berkeley Bowl, I haven't forgiven you for kicking me out just for tossing frozen tofurkeys down the aisle at a row of soy milk bottles!