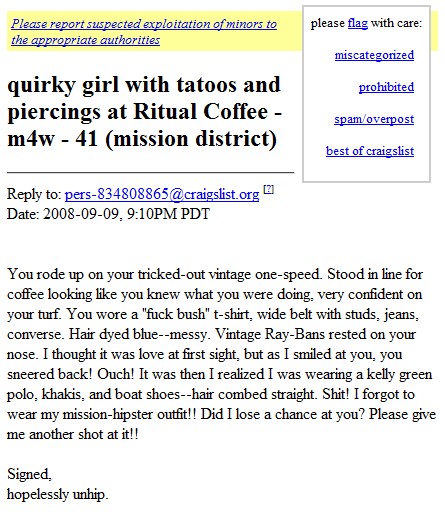 Found this in the Missed Connections. What's with the discrimination, Quirky Girl?
Quirky Girl with tatoos and piercings at Ritual Coffee – m4w – 41 (mission district)
You rode up on your tricked-out vintage one-speed. Stood in line for coffee looking like you knew what you were doing, very confident on your turf. You wore a "fuck bush" t-shirt, wide belt with studs, jeans, converse. Hair dyed blue–messy. Vintage Ray-Bans rested on your nose. I thought it was love at first sight, but as I smiled at you, you sneered back! Ouch! It was then I realized I was wearing a kelly green polo, khakis, and boat shoes–hair combed straight. Shit! I forgot to wear my mission-hipster outfit!! Did I lose a chance at you? Please give me another shot at it!!
Signed,
hopelessly unhip.
Link, or click thumbnail to enlarge.