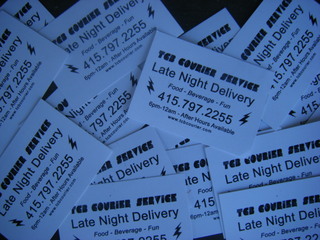 We've just started the missions first late night delivery service. We deliver pretty much anything you need.. Want a burrito and its 1145 and your drunk at the bar.. call us.. Need two gallons of milk, some rubber gloves and a dental damn… call us..

This is the brain child of two messengers that got sick and tired of sitting around downtown on standby all day, and decided to make something happen. There is late night delivery in NYC, Boston, Philly, and tons of other city's, SF needs to get some.
And the reviews are in:
i was the first customer! we used TCB to pick up and deliver a pizza from a place that won't deliver. A great idea, and I'm stoked that it's Chas.

Ye333eeessss broooooh
Full disclosure: I don't know Chas personally (one of the service's proprietors), but he and his friend crushed the Mission Mission Alleycat yesterday, beating out the next finisher by 29 minutes.  Boy can ride a bike.
(Link – TCB Courier | Open 6pm-12am 415.797.2255)