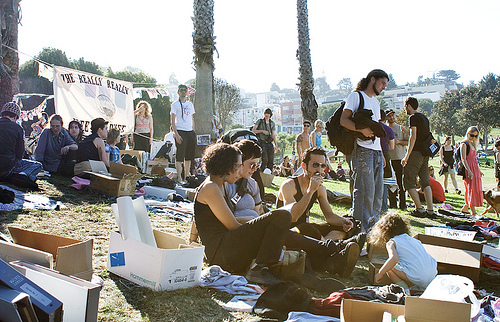 Late start today? Don't worry, I won't tell anyone you're still on the internet, as long as you don't blow my cover.
There's some cool stuff happening in the park today, so cancel that trip to San Jose. First of all, the Really Really Free Market:
The San Francisco Really Really Free Market (RRFM) meets the Last Saturday of Every Month in Dolores Park near 19th St and Dolores St. (except in the rainy season (Dec, Jan, Feb) we meet at an inside venue) Bring usable items, food, skills and talents to give for the sake of giving.
And Doctor Popular filled us in on his friend, P. Nosa, who will be in the park doing custom embroidery with his solar-powered sewing machine. He's from Tuscon and only comes out here once a year, so be sure to check him out and bring some article of clothing to modify: