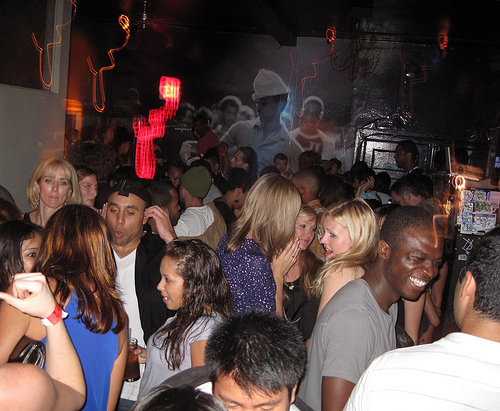 Cultural anthropologist David Enos is about to let us in on a vision of modern romance. And it starts, like many a great modern romance, at everyone's favorite '80s-hip-hop-themed dive bar:
Bryn Cowlsey: "He took me to Double Dutch and we were having a really great time, he seemed totally into me, you know, giving me the eyes?"
Samantha Wheatley: Ooooooooh
Bryn Cowlsey: "Then he was like, 'Let's go to my place.' And I'm like, 'Yes please' because I know he really loves me, and he sent a text that said "I miss your eyes" yesterday.  So that's all totally game changer."
Samantha Wheatley: Mmmmmm-hmmmmmm
Bryn Cowlsey: "So anyway, we get to his place and he's like, 'Want to watch the world cup?' And I'm stoked because I love the world cup too.  I'm like, 'Goooaaaaaaaaaaal', and like 'Vuvuzela'.  So he gets out a bottle of wine, super expensive wine, and I'm waiting for him to pour me a glass, you know, to be a gentleman and like, pour my glass."
See how the drama unfolds here.