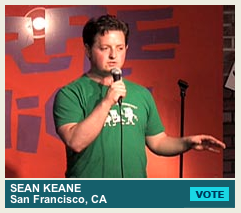 Country Music Television, an undeniable authority on the discipline of stand-up comedy, has chosen SF's own Sean Keane as a contestant! Now, I'm not sure how "country" he really is, but he does have a joke about mullets.
Sean Keane performs every Wednesday at the Dark Room theater on Mission and 18th as part of the Business along with Chris Garcia, who you're already a fan of. A bunch of us went last week and let me tell you, it's the best $5 you'll spend on a Wednesday. Ok, second best.
Here he is doing a bit on the SF Giants:
Vote for him here, because the rest of those contestants don't even live anywhere near you.