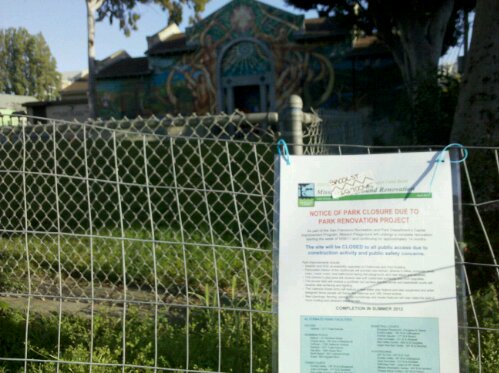 Not that park you're thinking of if you just glanced at the title, but nonetheless another important location in the neighborhood that Mission residents of many diverse cultures and proclivities all utilize cooperatively. I'm talking about Mission Playground, which is slated to close for renovation starting Monday May 9th and continuing well through 2012.
As it is, Mission Playground caters to the Latin American community by hosting epic soccer matches nightly, provides recreational activity for restless toddlers and a spot where couples actually trying to raise a kid instead of a dog can reliably go, and offers both basketball and tennis fanatics courts on which to get their game, among many others.
I'll definitely miss the place, but hopefully it can come back from surgery better, faster, and stronger.  I wonder if the pool will stay open? At least we'll still have the sunsets!