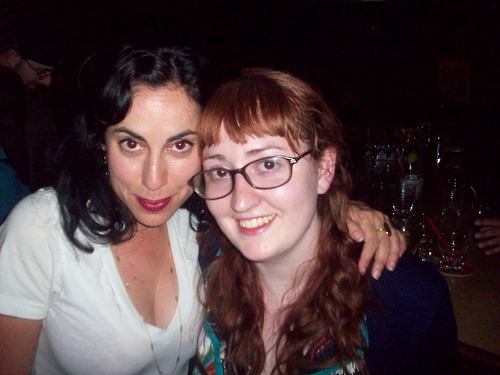 Local comedian Emily Heller has a cool radio show called "Slumming It" on FCC Free Radio with Marcello Fama.
Turns out she's pals with local singer Karina Denike, who you might know from the '90s 3rd wave ska band Dance Hall Crashers, and had a great interview with her on a recent show. Hear them chat about the golden age of East Bay punk, opening for MC Hammer, how the Rite Spot launched a ton of awesome bands, and the Dance Hall Crashers mysterious lez-appeal.
On a related note, Sunday we went out to the Riptide to see Karina Denike sing with the Cottontails. Allan kept raving about the DHC's remix of Rancid's "I Wanna Riot" (which she didn't remember and actually turned out to be the Stubborn Allstars… OOPS), Karina told us a pretty crazy story about getting mugged in the Mission in the '90s, and we're pret-ty sure Fat Mike from NOFX was hanging out for a minute.
MP3: Karina Denike on Slummin It
P.S. Karina plays with her own band 2nd Sundays at the Rite Spot Cafe, and all this '90s talk is making me want to cruise down San Pablo bumping "Give 'em the Boot Vol. 1″.