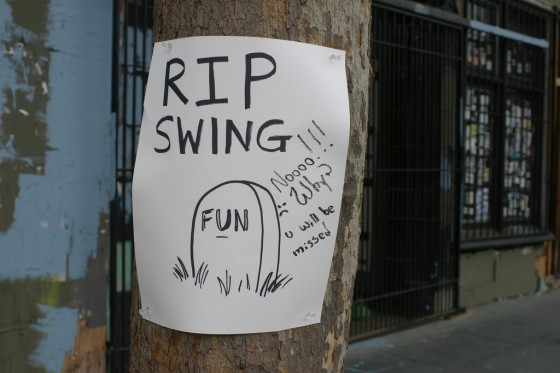 Our man at the scene Kai has the update:
Tiny memorial upon my arrival this morning. Glad to see the community mourning in a healthy way.
And it's probably not a good idea to mess with the perpetrator:
She lives on Dolores St between 18th and 19th. Her name is Carmen Castillo. She harasses all the neighbors and frankly, she's a bitter old crazy lady. She carries around an exacto knife, so be careful!
UPDATE: Further fun via Twitter:
@missionmission I might have a lead on swing slayer. Grumpy lady walks by hood tattoo shop, pokes head in, yells "don't do it" and walks off

— David Covell (@davidnotdave) January 15, 2012
Previously: