City officials announced today that they were planning to repaint the Golden Gate Bridge the color gold for its 75th anniversary. Makes sense to me. Because of the name.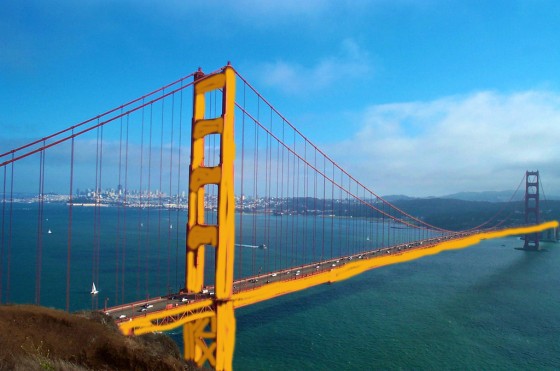 ("Artist" rendering.)
Photographers everywhere are charging their batteries in anticipation. Local iPhone photography enthusiast, Mark Shotson, already has his Instagram filter picked out. "I'm going with Toaster for the way that it really makes the center of the frame pop!"
In other landmark news, local rich person Larry Ellison plans to rename Sutro Tower "Ellison's Oracle" and then tear it down to get a better view of the fog from his mansion. He also urged city officials to make sure that the new golden bridge is painted in matte, as opposed to gloss, so the sun's reflection doesn't confuse America's Cup participants. City officials were nothing but happy to oblige.
[Original photo by mindwalker2076]