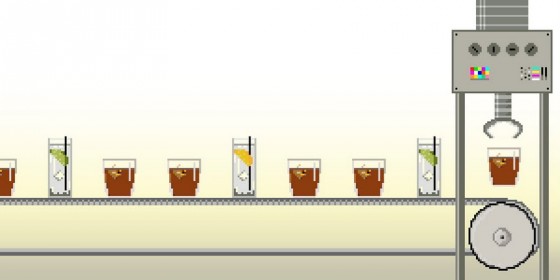 Famed local booze blogger Camper English recently called out San Francisco bar owners and bartenders for their increasingly generic cocktail bars and menus:
As bartenders have figured out what works here (drinks with bitter flavors and fresh ingredients, but not too many) and what doesn't (molecular mixology), they've played it increasingly safe with each new venue that opens. The new cocktail programs are great but they invoke fewer original ideas. Bartenders in up-and-coming cities have no such pre-fixed notions of what works in their market yet, and often take more creative risks both in the bar design and in the drinks. Now our local bartenders need to look outside the city for good ideas to incorporate and build upon.
I've noticed this trend as well, but I don't think it's specific to San Francisco. Now that there's a fancy cocktail bar on every corner the hipper areas of major cities, you'd expect an increase in variety and creativity. Instead, bars seem content to ride the wave of cocktail obsession by offering unadorned classic cocktails at high and rising prices. Subbing out an ingredient for it's schmancier equivalent (like using Cocchi Americano instead of dry vermouth) seems to qualify as an innovative variation. The design and styling of each new bar consists of as much hardwood as can fit in the budget while hopefully leaving room for funny outfits.
The issue is that while customers get more educated, the offerings are getting less impressive and more generic. Adding to the problem, there is so much demand for skilled bartenders that the people making these cocktails, at least in my experience, don't always know what they're doing. (Tip: if your bar is designed to look like a speakeasy, don't muddle an orange into your Old-Fashioned.) In short, there's often not a lot going on that I can't do at least as well at home.  It's sad because in most cases there are a lot of creative people and not enough venues, whereas in this case there are plenty of venues but not enough creativity.
Sometimes I wonder what we are going to do with all these neighborhood bars that have been overly remodeled to look like libraries when the bubble bursts and two thirds of them go out of business. Maybe we can turn them into libraries.
[Illustration by Joan Horne]