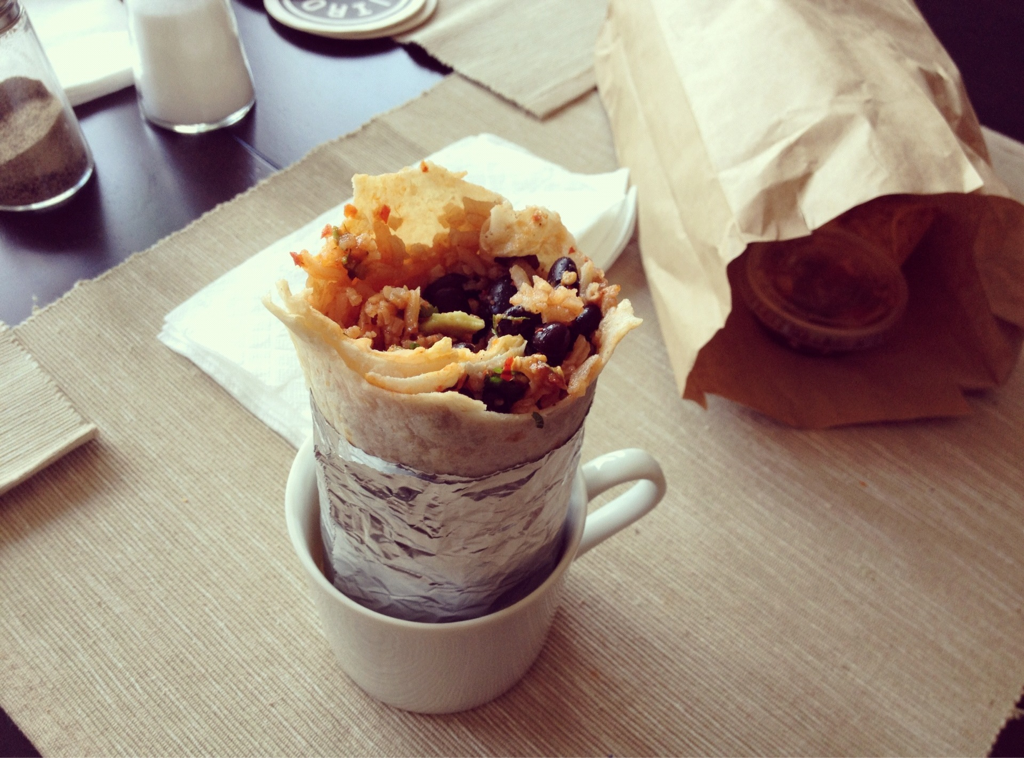 Reader and commenter D. Jon Moutarde said the other day, "Y'know, the best burrito is the one you learn to make yourself. Just sayin' y'all." I was skeptical, so I replied, "I've been making burritos myself for about 25 years and I've yet to get anywhere close to the best Mission burritos. What's your secret?" And here it is:
You really want to know?
1. Go to the place that sells what you consider to be the "best" Mission burrito, and order one. If you can watch them assemble it, so much the better.
2. DO NOT eat it; take it home and disassemble it carefully. Take careful note of your burrito's ingredients and make a list of them. If you think of any items that might enhance the awesomeness of the burrito, in your eyes, add them to the list.
3. Buy all the ingredients on your list, bring them home, prep them as necessary, and assemble new burritos — for a party of four, if you're feeling brave. Stand back and bask in the pride.
The only tricky parts are the tortillas and meat. You want the freshest tortillas possible — if you're not ready to make them yourself, then scout around for stuff that looks like it might be extra-local. And how far are you willing to go with the meat? Safeway has already-cooked carnitas, and Duc Loi has ready-to-grill carne asada that will cook in about 10 minutes… or you could get some trash cuts with lots of connective tissue cheap and slow-cook it for a few hours until it falls apart. The world of meat is vast and wonderful.
The essence of cheap "Mexican" food is that it is so easy that a trained monkey could make it — that's how it stays cheap! Its ingredients are more-or-less separable; it's not something like a soup or cake where it can be difficult to figure out what's in there. All you need is confidence, taste, and a systematic approach to production.
Simple enough. But I still wonder if there's some bit of magic that goes along with mass production that gives Mission burritos an extra boost. (Also, I wish I were as talented in the kitchen as a trained monkey.) Thanks, Jon!