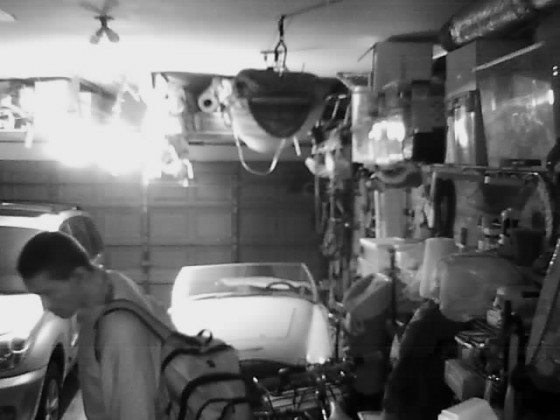 Reader Joshua wrote in to report the following home invasion bike theft and accompanying photos of the thief (recognize him?):
On March 31 at 5:22 AM Saturday Morning, a man entered our locked front door on the 800 Block of Guerrero Street, went down into the locked garage and relieved it of four bikes, ripping one off the wall.

2012 54″ White Specialized Allez with SRAM Apex
2009 51″ Turquoise Jamis Quest Femme (105 Double, maybe with a BullDog lock still attached to the rack that had been bolted to the wall)
2008 Medium Black Masi Soulville 8 with Front and Rear racks a Velo Orange saddle
1999 56″ Yellow LeMonde Tourmalet
That's right, one of those bikes was ripped off the wall with the lock still attached. The thing is, this is the fourth garage break-in/bike theft I know of from the past month and vicinity:
Our pal Jenny reports that her garage (around 29th/Dolores) was broken into with one bike stolen on March 10th,
This theft from the Glen Park area, via WBTC,
And my own bike was stolen out of a garage around 30th/San Jose on March 18th, also entering through a locked front door.
When the police showed up at the scene of my bike's theft, they mentioned that they are aware of a string of similar incidents and this may be a repeat offender.
I suppose I should list some safety tips and advice, or something. Here's what I've learned, anyway:
Make sure you have a deadbolt on any doors leading to a garage, and make sure to use it.
If your garage opens with a code, change it frequently.
Lock your bike to something in your garage. Apparently, this doesn't necessarily change anything, but it's another deterrent.
If you must hold onto your bike, store it in your apartment, instead of a separate storage area.
If someone really wants your bike, they can have it. Everything we own is essentially on loan from the universe.
Be okay with losing irreplaceable things, or own replaceable things. The bike that was taken from me was a cheap single speed from an online wholesaler, and though it bruised my bank account, I was back on practically the same wheels within a week.
If your bike is truly sacred to you, write down its serial number somewhere safe. This is pretty much the only way the police can help you if your bike turns up on Craigslist or elsewhere.
As Vic would say, sleep with your bikes under your pillows, kids.
Update: Here's time lapse footage from Joshua's garage burglary.