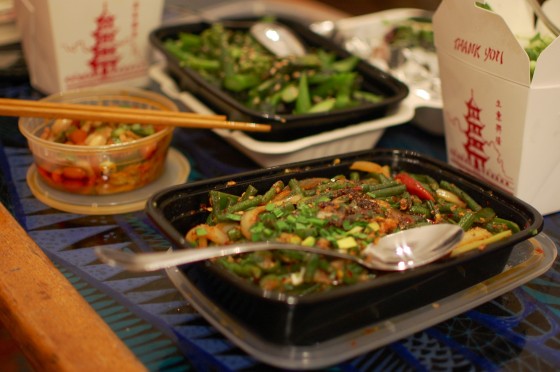 There is nothing unique about a feverish devotion to Mission Chinese Food, but I have one for the record books, and Mission Chinese keeps giving more reasons to adore it more. (This is despite the fact that I got a piece of accidental bacon in a dish there once, and it's the only place I have ever returned to after that happened.)
My favorite thing on the menu is the tiger salad. It is superlative. The Mission Chinese magicians switch up their menu fairly often, but they never bench the tiger salad, which is the most flavorful salad in the world.
Word to wise vegans: If you haven't been to (or ordered in from) this place, I won't judge; I have never seen ET. Anyway, when you go, scan the menu for the Vs next to each of the vegan menu items.  You can get the Thrice Cooked Bacon done vegan, but not the Ma Po Tofu. Surprise!
In other news, I'm going to SF Vegan Drinks tomorrow night. Want to join? There will be sweet potato tater tots.
UPDATE: Just got a note from the Vegan Drinks people:
We recently saw your post about Mission Chinese and that you're going to be attending SF Vegan Drinks tomorrow. Unfortunately, we had to cancel this month due to a scheduling conflict, but we'll be back on in May. Hope to see you there!
Bummer!