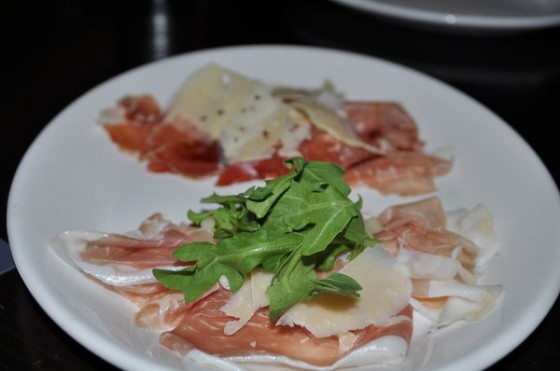 The first couple times I went to Hog & Rocks, the schmancy joint on 19th and San Carlos that bills itself as San Francisco's first ever ham and oyster bar, I skipped over the namesakes and went straight for the entrees (and cocktails, their cocktails are outstanding.) Recently I discovered I was totally missing out. I'm not an oyster enthusiast and lots of places have oysters, but the meats at this place are really something special. Each mound of prosciutto, Serrano ham, etc. is paired with something to bring out the meat's specific flavors, from pickled grapes to mozzarella. The other night we ordered the large sampler and tasted all the current selections. Here's some specifics:
La Quercia prosciutto with pickled grapes: subtle and smoky, smoky like a barbeque not a chimney fire. If you're not into salty, this is definitely the best pick.
San Daniele prosciutto with fresh mozz: Probably the saltiest on the menu but I liked it a lot. Dry and intense, like it's 10% of the way to becoming jerky. The mozzarella doesn't do much except maybe cut the saltiness a little.
G&W Hammery with pickled onions: creamy and fresh tasting. The onions were pickled in red wine vinegar like the onions on fancy burgers, which are pretty clearly great.
Redondo Iglesias Serrano ham with sun-dried tomatoes: Another salty one, also good. Not quite as intense as the San Daniele and the tomatoes were just okay, but still a good pick.
Broadbent's ham with Fresno chile syrup: gross, imho. The meat was bland and chewy. The syrup was overly sugary, and it didn't capture the orange-bell-pepper-y deliciousness that makes Fresno chiles great (see Youk's.)
Happy ham-eating!
[photo]