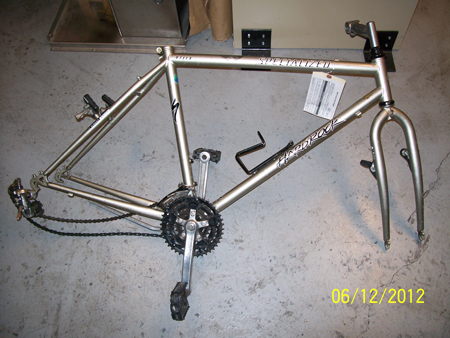 Hey, looks like BART Police actually do stuff other than stand around holding their belts!
Today BART posted that that they caught 47-year old Brett Major of San Francisco in the act, and want your help in identifying some recovered stolen frames:
BART Police Officers booked Major at San Francisco County Jail for burglary, theft, possession of  burglary tools, and an outstanding warrant originating from Alameda County. A subsequent search of Majors' home turned up seven bicycle frames and parts, which BART Police believe to be stolen. BART Police Investigators are looking for the owners to identify and claim their property.
My bike (stolen in January from the same location) wasn't in there, but maybe you can identify yours so they can throw the book at this dude… multiple times. Hopefully they are heavy books with sharp edges like hardcover, large print editions of Infinite Jest. I don't think I'll be retiring the busted-ass Murray that I lock down there yet, but this is a good development indeed.
If you've had a bike stolen out of 24th St. recently, head over to BART's site and see if a picture of your frame is listed.
Update: Also, don't forget that Ingelside station posted a ton of pictures of recovered bikes in May. Worth a look if you haven't checked it out already.