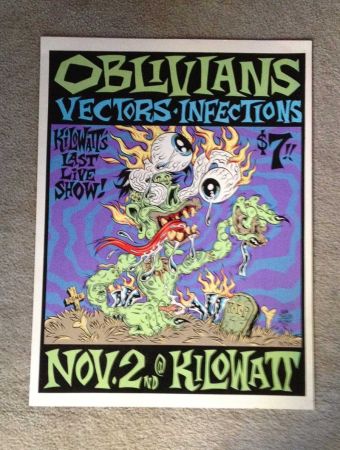 I guess I never unsubscribed from the Craigslist "oblivians" search I set up when I was trying to get tickets to their sold-out appearance at Budget Rock a couple years back. This popped up today:
Oblivions Concert Poster – s/n by Alan Forbes – $40 (oakland piedmont / montclair)
Awesome poster for a show by the Oblivians in San Francisco – 1997 for the Kilowatt's Last Live Show – playing with Vectors and Infections. Signed and numbered by the great artist Alan Forbes (#489/500) The poster is in VG cond., but was stuck on the wall so has small tears in the back corners. The front looks great, only has a few tiny marks and minor edgewear in some spots. measures 23 x 17.25
Trippy that 1997 was 15 years ago, right? And that Kilowatt used to do shows? And that awesome garage rock was happening here well before Thee Oh Sees and Ty? Anyway here comes an Oblivians history lesson…
Here's their big hit:
And here's something they might've played that night, a gospel-style song from the gospel-style album they released that year:
That ended up being their final studio album. I guess 1997 was a good year to stop doing things you'd been doing for a while.
P.S. Here's another poster for the same show: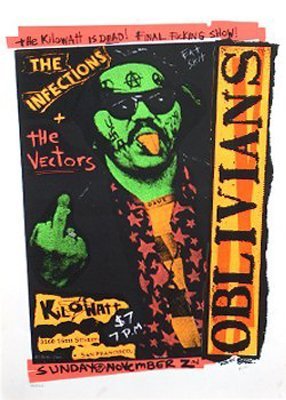 (via Frank Kozik)
UPDATE: Oops, this post is erroneous. Our pal Allison informs us that "Coachwhips played Kilowatt during Noise Pop in 2004." So I guess never say never, doy.