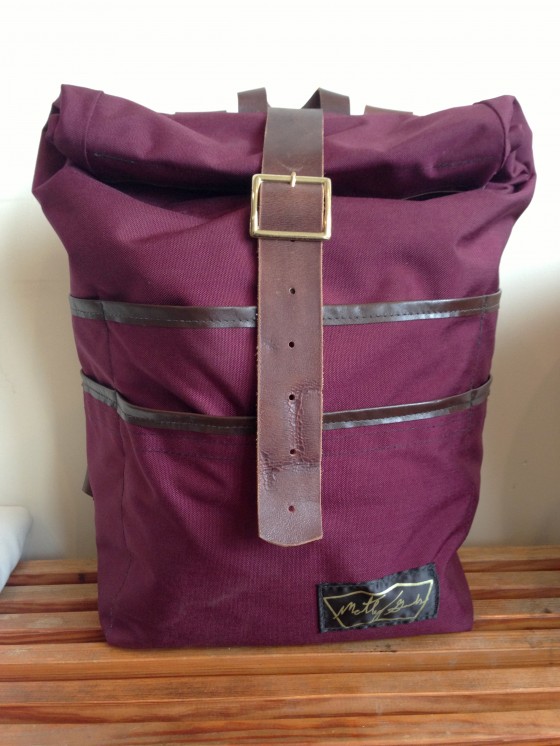 Last minute gift idea! Our pal Cleveland Motley recently launched his very own bag business, Motley Goods, based right here in the Mission. Everything's handmade by Cleveland, and the star of the show seems to be the "Weekender":
Our medium roll-top backpack.
The Weekender, trimmed in leather is a great do-it-all bag.
Designed to be small and refined enough to take to work, yet large enough to be your ticket out of town.
Its heavy-duty waterproof Cordura nylon exterior and separate waterproof vinyl liner combine with leather trim to become a modern design and rugged utilitarian tool.
18″ x 12″ x 6.5″ give the Weekender 23L of internal capacity.
Three large external pockets
Optional 17″ padded laptop sleeve
One 6-inch velcro closed internal pocket
Thick foam back pad
Leather straps, choice of leather or nylon trim
Cordura exterior fabric – available in six colors
Heavy vinyl liner
Secondary Velcro roll top closure
Boom. Our other pal Nattles wore it around for just a couple of days and got hammered with compliments the whole time, presumably because it looks both gorgeous and like serious business. The rolltop on top and a healthy amount of velcro throughout ensure everything stays nice and dry, and the leather straps and trim ensure you look dope.
See the official Weekender page (with more pics of the bag in more colors) here. Or check out the rest of the Motley catalog (which includes a huge backpack, a basket bag, a pannier/backpack, and a satchel) here.
Here it is in action: