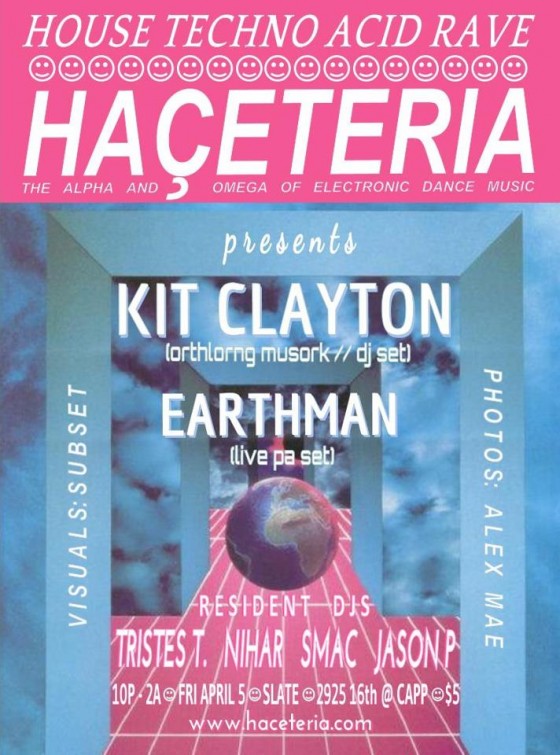 I say it every month: Haçeteria is the best. Tonight's edition includes the following special guests:
Haceteria is excited to have a very special dj set from the legendary and prolific electronic experimentalist Kit Clayton. With releases on Soul Jazz, Carpark, Orthlorng, & many more (we have to mention the Wire Magazine mix CD), Kit will surely dazzle the dancefloor with his impressive knowledge of choice cuts from past and present. Kit also is enmeshed in video and 3d graphics with his work in developing software platforms which expand upon the visual programming environment which alongside with his music aim to "explore communication, speculation, value, directive, and the space between artist and audience."
https://soundcloud.com/kitclayton
We could think of no better way to celebrate the month when Earth Day takes place than by having a special live set from Earthman, an Oakland-based up and coming terrestrial trailblazer. With tracks ranging from ambient house and austere dubby minimalism, to undulating subaquatic grooves and downtempo electro, Earthman spans the seven continents of electronic dance music terroir.
https://soundcloud.com/earth_to_dude
Can't wait! (I'll be there as soon as Thee Oh Sees are done.) RSVP and invite your friends!