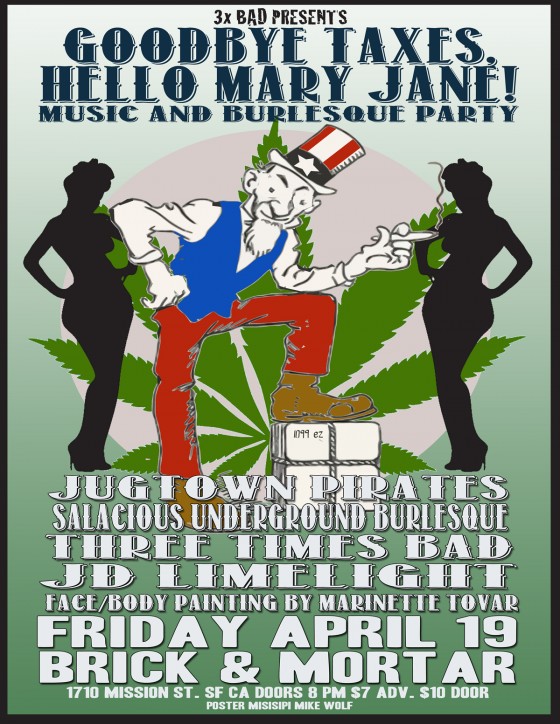 Get started a little early on this weekend's 4/20 festivities this Friday at Brick and Mortar!  Check out all the details after the jump:
music by…
Jugtown Pirates (CD release celebration!!!)
Jugtown Pirates are a psychedelic rock/bluegrass band from the Haight that plays their own raucous brand of "dirty grass." They consist of four core members and are typically accompanied by one or more of a long list of very skillful and talented special guests. Every show is a euphoric celebration and the band is excited to release their third CD at this special "Mary Jane" event.
Three Times Bad is "a hot new San Francisco string trio born from the soundtrack to the critically acclaimed, transmedia novel 'badbadbad'" (Hood River News) by bandmate Jesus Angel Garcia. The group plays "dirty American roots music" (The Register-Guard). Think: "Epic moustaches and bent bluegrass" (The Source Weekly), blues and country, hillbilly swing and Appalachian rags, Gypsy jazz, freak preachery, murder ballads, folk punk, story songs, and hot singalongs. Three Times Bad is "urban hillbilly music at its finest: ear-opening, toe-tapping tales of love-making on cornbread crumbs, illicit obsession with the reverend's wife and possum stew, and gospel hoedowns the likes of which you haven't seen since Jonathan Edwards and the Great Awakening" (SouthTahoeNOW).
Polyamorous instrumentalist JD Limelight plays accordion, guitar, bass, ukulele, octophone, autoharp, and mandolin. He also sings and composes songs. His latest project features tunes drawn from personal experience and written along his journey from the rusty underbelly of Eastbania to the green expanses of Sonomastan.
dancing by…
Salacious Underground Burlesque
Salacious Underground brings a sexy neo-burlesque experience to each of its performances under the lusty leadership of matriarch Juicy D. Light. Check out the YouTube clip (linked above) from the dance troupe's collaboration with murdergrass legends the Pine Box Boys at this past fall's Boograss! Halloween Hoedown & Burlesque Show at Slim's.
face & body painting by…
Marinette Tovar is a world-class face and body painter who animates the unique personality of everyone she paints.
video by…
Jesus Angel Garcia is the Three Times Bad band leader, novelist of badbadbad (the book that birthed the band), and a neo-Luddite filmmaker who likes to make videos using outdated technology and old-school techniques.
*** There will be a "Mary Jane" dance-off contest with prizes for audience participants and pre-show/between-bands DJ sets featuring all your favorite odes to evil marijuana… ***