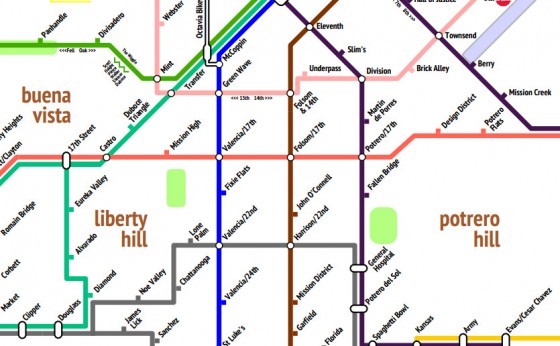 Even though the SF bike coalition has put a ton of painstaking work into creating a thoroughly-detailed bicycle map of the city, it can appear pretty daunting to anyone glancing at it while trying to plan a riding route, and just plain overwhelming to newbie riders looking to adopt cycling as their primary means of transportation.  Fortunately, longtime cyclist Mat Kladney noticed this and decided to create a map that makes bicycling from one end of the city to the other look as simple as following a straight line:
"Need to get from Downtown to the Bernal Heights? Just follow the Blue Line," he says. "This simplicity will re-frame the existing San Francisco bicycle lanes as the San Francisco Bicycle System and will help convince more people to saddle up and take to the streets."
Instead of contoured lines denoting hill grade or the inclusion of every single city street, the map ends up looking like a subway system map, with popular routes like Valencia's "Green Wave" called out.  So, the next time you're trying to figure out the perfect route to that bike picnic at Baker Beach, just pick a color or two a ride!
[Link to map, via The Atlantic]