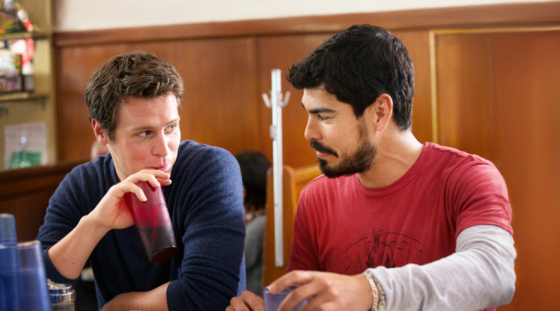 Oh my goodness, you guys, being a gay man in San Francisco is glorious! Our 5th episode of Looking takes us on a 24-hour date with Patrick and Richie as they wander through San Francisco and talk first sexual experiences, coming out stories, and putting Ds in Bs.
The episode (titled "Looking for the Future") starts off with Patrick waking up at Richie's place and tip-toeing off to work — but Richie wakes up before he can dine and ditch, and we discover that the pair have spent a few nights together at this point. Patrick finally heads out, only to turn back around less than half a block away to hop back into Richie's bed. What ensues is a pretty decent sex scene that every mainstream entertainment outlet this week has warned us about with shitty copy like "Get ready to put your game face on to check out Jonathan Groff's eye-popping O-face!" and such. P got a beej, ok?
The boys head to St. Francis Fountain for breakfast and continue talking; we find out Patrick is tested for STDs regularly, that Richie's last boyfriend was HIV positive ("I loved him, so what are you gonna do?"), that Patrick loves Goonies. Patrick decides to call in sick to work, and the rest of the day is one big walk and talk and it's all very Annie Hall (or West Wing?).
We hop on the J-Church (hey buddy!) en route to Golden Gate Park, find out both boys are former fatties, and learn about first sexual experiences. Patrick and Richie head to the Morrison Planetarium at the California Academy of Sciences for more H2H-ing. I am immediately reminded of Dylan and Kelly's Griffith Observatory planetarium makeout on 90210 (that summer they were cheating on Brenda!), a total Rebel Without a Cause ref aired during the golden age of Bev-Niner. Patrick and Richie are totally not on the same page as me and instead evoke Ross and Rachel's planetarium makeout on Friends, which made me roll my eyes and go "ugh, gays" (and then I immediately felt bad).
The fellas discuss B-sex, and we learn that Patrick isn't sure he's into it. We learn the phrase "bottom shame" (which is now ingrained in my personal lexicon), and discuss things like people immediately picturing a D in your B when you come out. The night ends with Patrick opening up and telling Richie he might be ready to try it all out soon.
Now stay with me here. All this B-sex talk is significant, because this is not a show about struggling with sexuality. The heroes of our story are not 17 years old; they have been out for a while, are comfortable in their gayness, and navigating relationships. This show is taking shit to the next level. Looking rolls its eyes at the two-episode gay character who teaches us about self-discovery and bounces, because Looking is not about teaching straight people how hard it is to be gay. Us frumpy straights are not watching characters whose sexuality defines them, we're just checking out some gay dudes on the daily and hearing what universal and more niche relationship, class, and cultural issues come up along the way.
Now I know I initially complained that, though I understood Looking was to be a realistic portrayal of gay men in San Francisco, the show wasn't fabulous enough (yeah, I'm a dick). I stand by that assertion of the first 3 episodes, which really did this show a disservice by not introducing our characters more dynamically and likely losing initial viewers. The difference between episode 1 and episode 5 is that while episode 1 was staring at us with knowing looks and promising they'd fill us in later, episode 5 is both filling us in and saying hey, here's a really good book you should read. Top shame!
Oh, enough about you. Sing us out, Morrissey.
Spotted in this episode: Richie's apartment on 24th between Florida and Bryant in between Dreams Hair Salon and Sugarlump Coffee, St. Francis Fountain, the J-Church, Golden Gate Park, a hat tip to the buffalos in the park, the Morrison Planetarium at the California Academy of Sciences, the beach.