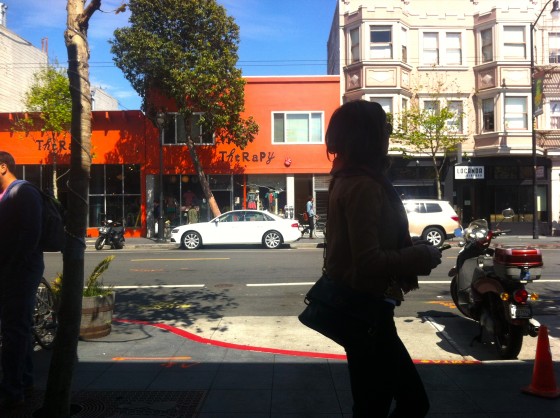 I like West of Pecos for people watching and frozen margaritas (and variations on frozen margaritas). Every time I go there, I look out the window and see literally tons of notable people. Yesterday was no exception:
Doc and Mrs. Pop
Erika Kali
Mike Keegan (of the Roxie)
Ben and Mrs. Russo (of Cracked Machine)
Guy doing krav maga routines in front of Therapy for literally 1 whole hour
Lanky pale guy from Silicon Valley and the Office
Fake Stinky (not of Tuff Signals)
Jake Faska
Three separate people, many minutes apart, wearing the same Airbnb hoodie
Doc and Mrs. Pop again
The guy who wears gold lamé a lot and is BFFs with the dancing robot
Guy in a Cookie Monster outfit (or maybe it was a really fuzzy North Face fleece)
Two separate people, several minutes apart, in the same Jawbreaker shirt
Bartender from Dear Mom
Michael Connolly
Ben Ward
Bike messenger who looks like Michael Connolly
Tall guy who is friends with Andrew Sarkarati
Jake and Bethany (who met and got engaged at Amercian Tripps) and Baby Gray
Michael Connolly again
A little baby on a little baby scooter riding by yelling, "Manila, Manila, Manila!"
Did I say hi to any of them? Nope, I just sat there and made my list.