Fun DT&D fact: Katie, Brittany and I work together at BAYCAT, and one of the most famous shots in cinema history, the hallway shot from The Right Stuff, was shot in the hallway right outside our door. Legend goes that Walter Murch (personal hero of mine) was editing right here in the Dogpatch's Northern AIC building, and they needed a pick up shot of the astronauts walking in slo-mo to really capture the gravitas. I did a little comparison as "proof" back in 2006, with myself as a piss poor stand in for the mightiest of hero shots.
Anyway, Sam Shepard was nominated for an Oscar® for his role in that film, as Chuck Yeager, the first human to break the sound barrier. Last week Katie & Brittany saw the Magic's newest take on Shepard's works. Here's their report:
Sam Shepard, playwright, actor, director and Patti-Smith-ex, is turning 70. As part of Magic Theatre's "Sheparding America" festival (Shepard was a playwright in residence at the Magic Theatre in the 70's), Bay Area theaters are producing a series of shows that celebrate this great American playwright. While other productions are honoring Shepard by performing his plays, Word for Word member Amy Kossow decided to do something a little different. Taking a year to sift through five of Mr. Shepard's collections of short stories, Kossow created 36 Stories by Sam Shepard, which weaves together Sam Shepard's shorts about America's desert highways into a single piece about a writer's struggle as he searches for inspiration.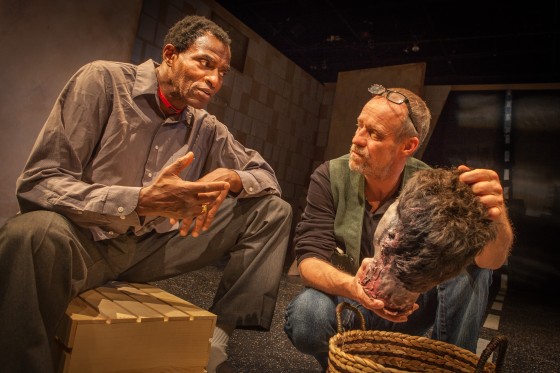 Word for Word's production of 36 Stories by Sam Shepard, at Z Below 5/21/14 through 6/22/14. L to R: Carl Lumbly, Rod Gnapp. Photo by Mark Leialoha

The Writer (Rod Gnapp) has a philosophical discussion with the spirit of the severed head (Carl Lumbly).
Brittany: It was artsy, so I liked it. But, I thought the way the piece was constructed was a bit problematic. It was essentially a play about about a writers' struggle, but I didn't care as much about the writer's struggle, as I cared about the stories he was telling. All the actors were great, and I thought the piece as a whole was really well done. Rod Gnapp did an amazing job with a character I didn't think was compelling. But it was a little hard to stay fully engaged when the stories kept switching. That being said, I thought it was a really good production, and some of the actors' individual performances were really remarkable, especially getting to see their range as they played different roles.
Katie: The actors were great but that didn't help me to care about what was happening. It just didn't work for me. I don't know Brittany….I guess I just don't get it because I just don't understand how this is entertaining…maybe I just don't know Sam Shepard enough. The set and the staging were good though. The actor who played guitar was really good and really cute. They should have just turned Sam Shepard's short stories into songs and he could of just been on stage the whole time singing. I'd be into that shit.
B: I would say if you are interested in seeing a very well acted series of stories, you should go.
K: I would say skip this one.
The Verdict: If you enjoy poetic language and are interested in seeing it very well acted out in a series of stories, this is the show for you. If you know, and like, Sam Shepard's writing, this is the show for you. If neither of those things apply, this is not the show for you.
The Drama Talk: This is a Bay Area all-star cast. It was well staged, and well performed. Word for Word does plays word-for-word, this means reading stage directions as well, so be prepared for that. Although Shepard's stories themselves are intriguing, the piece which is used to tie them together is not as strong as its parts.
The Drinks: Everything Sam Shepard writes is a little dark, so after an evening of All-American ennui, we decided to go in for some All-American fun and check out Urban Putt. Brittany got the Seasonal Shandy and Katie got a Calimocho (red wine and Coke, classy), and we watched the many revelers (who waited in line for over an hour on a Wednesday to play putt-putt) take in a Bay Area fantasyland.
36 Stories by Sam Shepard runs through 6/22 at the Z Below, and tickets can be purchased through their website. Ticket prices vary from $30-$55 depending on how close you are to the stage, but it's a small theater so any seat is good. There are also ½ price tickets available on Goldstar.