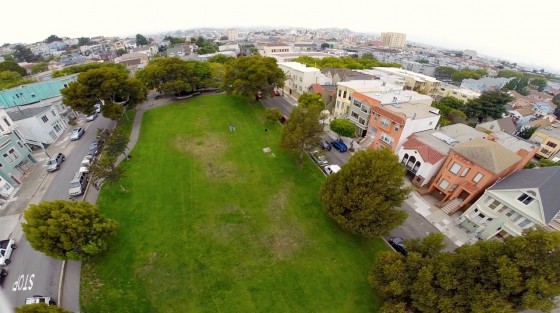 Bernalwood today did a great post about drone politics, and there's a pretty great discussion going on in the comments section too, but commenter "queenie" stole the show with this epic piece of poetry:
The leash-less dawgs are all a-bark,
HARK! — there's a spy in the sky above the park!
Out from the cafes, out from the homes,
the Bernalites look up and see DRONES.
They're buzzing up a storm of infernal noise,
military-esque these ain't no toys.
Camo-clad controllers, moms and dads with strollers,
in the same damn Bernal bubble,
you know there's gonna be trouble.
Some say it's fine,
some say it's good,
taco-copters to deliver my take-out food!
but you know you're gonna pay
when your taco lands
in some un-picked poop
in the playground sands.
So welcome to the future
and expect to see more
How do you like dog crap
with your Al Pastor?
Welcome to the future, indeed! Good work, Bernalpals!
Read on for lots more discussion.